20 ton 16 bar biomass fired chain grate steam boiler
2019-07-04 17:27:24
  This article presents some information about the 20 ton 16 bar biomass fired chain grate steam boiler produced by ZBG, including boiler parameters, technical features, and performance advantages. The article can help customers better understand the performance of our 20-ton biomass chain grate steam boiler, if customers need such a steam boiler, welcome to consult.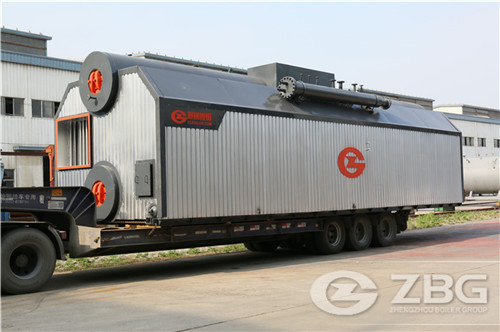 20 ton 16 bar biomass fired chain grate steam boiler technical features
  Model: SZL20-1.6
  Rated steam capacity: 20t/h
  Rated steam pressure: 1.6 MPa(16 bar)
  Rated steam temperature: 204 °C
  Feed water temperature: 105 °C
  Cold air temperature: 30 °C
  Test pressure: 2.0 MPa(20 bar)
  Radiant heating surface: 75.5 ㎡
  Convective heating surface: 374.5 ㎡
  Economizer heating surface: 295 ㎡
  Air preheater heating surface: 130.38 ㎡
  Effective area of grate: 20.8 ㎡
  Furnace volume: 60 m³
  Exhaust gas temperature: 160 °C
  Design efficiency: 86.8%
  Boiler water capacity: 18.5 m³
  SZL series biomass chain grate steam boiler features
  ZBG SZL series biomass boiler is a double-drum water tube assembly chain grate boiler.
  1. Boilers are equipped with a complete electrical control and monitoring system
  2. Boilers utilize automatic and interlocked control technology
  3. Fully automated processing of spirally corrugated tube
  4. Fully automated Precise technique of blanking
  5. Double drum vertical arrangement, with upper and lower assembly structures
  6. Large heating surface design, ensuring high boiler output and
  Efficiency
  7. Configured with new high efficiency auxiliaries and fittings
  SZL series biomass chain grate boiler performance advantages
  1. Structure of horizontal boiler is compact, occupy a limited area,
  2. low cost and investment on capital construction
  3. The combustion space is big, fuel can be burned completed.
  4. Less thermal loss, stronger output, and higher steam quality.
  5. Boilers are equipped with a complete electrical control and monitoring system
  6. Boilers utilize automatic and interlocked control technology
  7. Boiler operation is safer and reliable