industrial steam boiler manufacturer
2019-04-10 11:19:48
  Founded in 1945, Zhengzhou Boiler Co., Ltd. is a comprehensive high-tech manufacturing enterprise integrating scientific research, design, development, manufacturing, sales and installation. The company is headquartered in Gaoxin District, Zhengzhou City, Henan Province. ZBG manufactures a huge range of industrial boilers, power plant boiler and boiler auxiliary equipment, with products that will fit most industrial boiler needs. Their boilers range from 2 ton/hr to 440 ton/hr, with fire tube, water-fire tube and water tube designs that can handle fuels ranging from gas, oil to biomass and solid waste. This breadth of product offering means that they have a solution to fit almost any need.
  Our industrial boilers provide heat and power to a wide variety of systems and applications, including steam generation, CHP, turbines (powering). Industrial steam boilers are used in industries such as manufacturing, electrical, paper and pulp, textile plant, metalworking, refining and food and beverage.
  ZBG industrial steam boiler types
  1. Oil and gas steam boiler
  Model: szs series and wns series
  Capacity: 2-90 ton/hr
  Fuel: natural gas, city gas, biogas, diesel oil, lpg, heavy oil
  Our oil and gas industrial boilers are not only thermally efficient (up to 98%), but also significantly reduce pollutant emissions (NOx≤30 mg/Nm³). With the increase of environmental protection in various countries, a large number of gas-fired boilers will replace the original coal-fired boilers. The market prospect of gas-fired boilers is quite broad.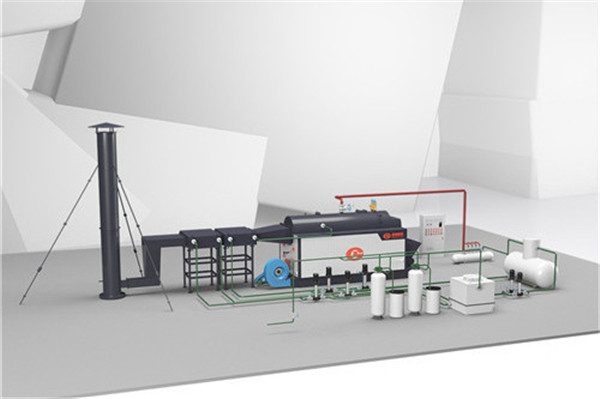 2. Biomass/coal fired steam boiler
  Model: dzl series, szl series, dhl type and cfb boiler
  Capacity: 2-280 ton/hr
  Fuel: rice husk, straw, wood fuel, biomass pellets, palm shell, coal
  Our coal-fired boilers mainly include two types of furnaces: chain grate boilers and circulating fluidized bed boilers. ZBG uses a number of technologies to reduce the pollution emissions of coal-fired boilers. Biomass boilers are a type of boiler that uses a variety of biomass energy sources as fuel. The use of biomass energy such as agricultural and forestry residues as a fuel for boilers is environmentally friendly and renewable. It is of great significance to study industrial boiler biomass combustion technology and open material fuel boilers to save conventional energy, optimize energy structure and reduce environmental pollution.
  3. Waste heat recovery boiler
  The waste heat boiler can use the waste heat from waste gas, waste or waste liquid in various industrial processes and the heat generated after combustion of the combustible material to produce hot water or steam for use in other sections.