Working Principle of Coking Furnace Waste Heat Boiler
2021-06-25 09:54:10
The coking furnace is mainly used in the coking plant. After the coal is subjected to a high-temperature dry distillation process, chemical raw materials such as gas, saccharin, tar, and asphalt are extracted, and the by-product coke is finally left. The coking furnace emits a large amount of high-temperature waste flue gas during operation, and the high-efficiency equipment for waste heat recovery and utilization of the flue gas of the coking furnace is the coking furnace waste heat boiler.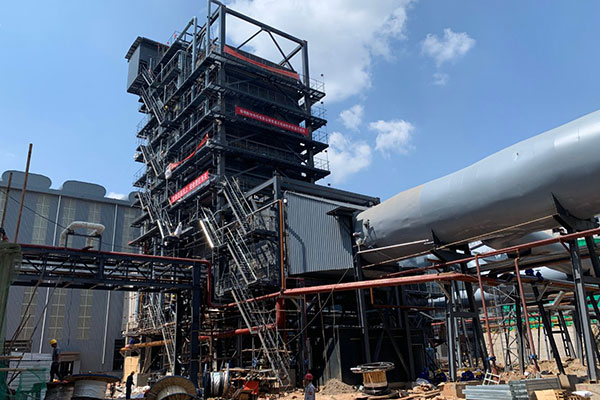 Working principle of coking furnace waste heat boiler
The structure of the coking furnace waste heat boiler is composed of an economizer and an evaporator. In order to improve the heat transfer temperature and pressure, the economizer part adopts a countercurrent arrangement, that is, the working fluid and flue gas flow are opposite to each other, while the evaporator part adopts an in-line arrangement.
The coking furnace waste heat boiler is an energy-saving equipment installed on the exhaust flue at the tail of the coking furnace, which can effectively reduce the flue gas temperature, recover the flue gas waste heat, save energy and protect the environment.
The coking furnace waste heat boiler has a hole in front of the flap valve of the underground main flue to lead the hot flue gas in the underground flue from the underground. After the heat exchange and cooling of the waste heat recovery system, the flue gas temperature is reduced from 260℃-300℃ to approximately Between 140°C and 160°C, it is discharged into the reserved hole on the original chimney through the induced draft fan at the outlet of the waste heat boiler, and discharged into the atmosphere through the chimney.
The actual layout of the coking furnace waste heat boiler shall be determined according to the actual situation of the user's site, and different configurations shall be carried out.
Want to know more details about the coking furnace waste heat boiler? Welcome to consult online customer service, or directly call 0371-86678499, ZBG Boiler will serve you wholeheartedly!