Autoclave for AAC Block Plant Manufacturers
2016-10-18 14:58:25
ZBG has been a leading supplier of technologically advanced autoclaves and boilers for more than 70 years. Our goal is to deliver the best industrial steam autoclave equipment to facilitate in our customers' success. To realize this target, we have designed, manufactured, and installed some of the most advanced industrial autoclaves in different areas for sectors including aac plant, building material industry, fly ahs bricks factory, etc. Adhering to industry standards and certifications, our design methodology draws from our company philosophy of listening to our customers, understanding the project, and applying our expertise to fulfill each consumer's requirements. Now, ZBG's steam autoclaves for sale have been exported to all around the world.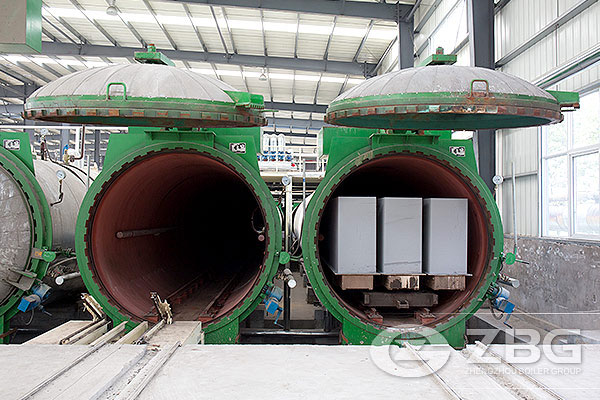 Autoclave for AAC block Plant design:
1. Capacity ranging from 50,000 to 300,000 cubic meter, and we can make design based on your actual area of land.
2. Plant should have raw materials field and finished products field;
3. Plant should have maintenance workshop, test room, warehouse,etc.
4. The plant construction time (from earthworks to trial operation) is about 6 month.
Our AAC autoclaves used for processing aerated concrete have been designed to provide excellent heat transfer to your concrete load and provide uniform temperatures down the length of the autoclave. Internal piping and steam distribution manifolds are engineered to satisfy your exact load and cycle time requirements. You are welcomed to contact us to know more about our high quality and competitive price autoclaves for your AAC plant ranging from 50,000 to 300,000 cubic meter capacity annually.
Get An Instant Quotation
For all inquiries, please fill in the form below (* are required) to send us a brief message, and we will get back to you as soon as possible.