Cost of 150000 CBM AAC BLOCKA PLANT
2016-09-27 16:15:17
Green building materials like AAC block, flyash block, etc are overwhelming the construction material market because the low cost, high profit, and government support. ZBG mainly manufactures boilers and autoclaves, also full production line of 50,000 - 350,000 cubic meter AAC block plants. If you or your friends are planing the investment of AAC block plant, contact us for more detailed information and price list!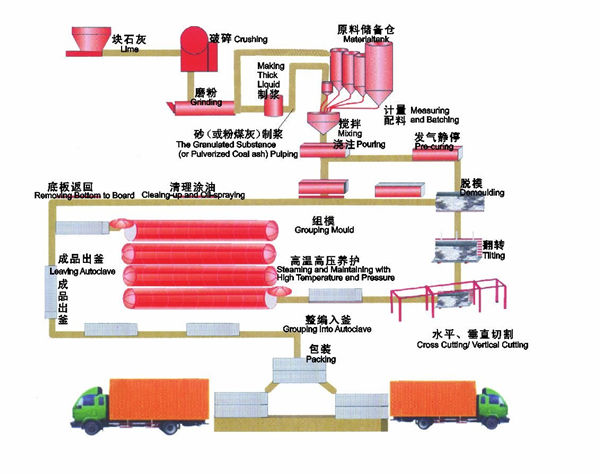 Here are main equipment in 150000 cubic meter AAC production line:
Material-milling Equipment:
a. Crusher: Lime, gypsum, and such kind of bulk material need to be crushed as the first step in AAC Plant.
b. Miller: The AAC material must be fully ground in order to make better reaction. Ball Mill is used widely, it has two types: dry and wet, can be chosen upon requirement.
Material Metering Equipment: Computer Control Automatic Metering System is commonly used as measurement of raw materials.
Material mixing and casting Equipment: Mixer, it's the slurry mixing machine, also is slurry casting machine.
Cutting Machine: the AAC blank is formed after casting and pre-curing, as the size is too large, it must be cut to achieve the required product size.
Autoclave: Autoclave is a device for silicate hydration products to get physical and mechanical properties.
Boiler: the boiler supports for the autoclave and pre-heat furnace and other facilities with heat.
Auxiliary Equipment:
a. Mould Frame, Mould Bottom and Mould Car, they composed together to form the Casting Mould, which is the main forming equipment in AAC Production Line.
b. Hardening Car, Ferry Cart and Hangers, they must be equipped as auxiliary Equipment in autoclave curing system.
c. Finished products hanger takes the finished block, side plate and hardening car to other place.