What Determines Gas Oil Steam Boiler Price
2016-03-09 09:37:19
As global climate is facing serious challenge, clean energy becomes the core part in the energy structure, of which gas and oil, the energy saving and clean combustion fuels are the popular choices in boiler equipment. As for the question, what factors determine gas oil steam boiler price, is also a hot issue.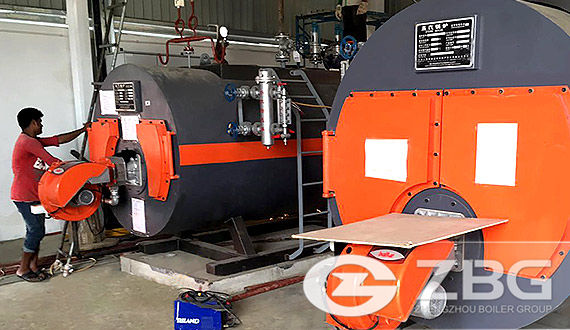 1ton & 2ton gas steam boiler in factory
Gas oil boiler for sale price
The price of industrial boiler is usually affected by the boiler configuration, the larger rated steam capacity and pressure lead to a higher steam boiler price. Other main parameters like rated steam temperature and feed water temperature also affect the final price.
Boiler auxiliary equipment price
The auxiliary equipment generally include exhaust fan, measuring equipment, burner, pipeline and water supply equipment. The price might change for different brand and quality, eventually the whole gas oil steam boiler price will change as well.
Pipeline cost
Here the pipeline refers to the gas fired boiler fuel pipeline. As we know, gas fuel is transported via the pipes, so when we choose natural gas as boiler fuel, the cost must be considered.
Fuel for boiler cost
In some countries coal is the major energy for its fairly cheap price, but its burning is not as clean and efficient as gas fuel, that's why people choose energy saving gas oil steam boilers. The fuel cost is also a part of the project investment.
Manufacturer of gas oil boiler 
Industrial boilers are the main power equipment in some industries, but equipment also have explosion or other risks, a reliable manufacturer will be the right choice. Anyway, ZBG, a leading boiler manufacturer and supplier in China, offers our clients safe, clean and cost-efficient gas oil steam boilers!
If you want to know more about steam boiler prices, please CONTACT US!