How to Ensure the Fully Combustion of Chain Grate Boiler
2016-03-09 09:57:45
Traditional high input, high consumption, high emission and low income of economy can not meet the demand of the market now, so improving the utilization rate of resources is the key issue for every enterprise. For chain grate boiler, which burn much coal, the combustion efficiency of it is relate to the quality of environment and resources consumption rate. Therefore, the solid insufficient combustion needs to be avoided in the combustion process.The following measures could be taken to avoid that.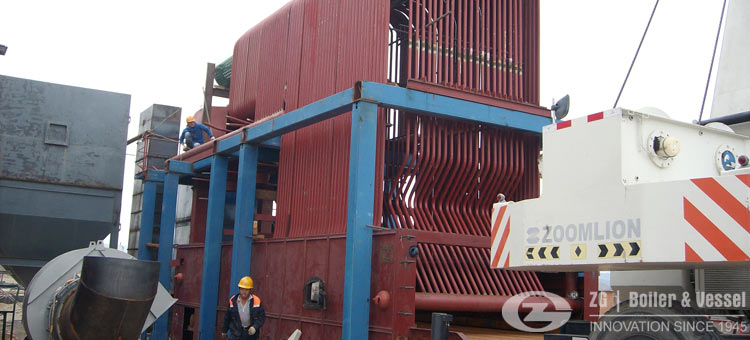 high efficiency 20 ton chain grate boiler installation in Mongolia
The conditions for fully burning of solid fuel
Appropriate amount of air, sufficient combustion time, higher combustion temperature, high furnace temperature, qualified pulverized coal fineness, well mixed fuel and air are the key conditions to reduce heat loss.
Choose suitable coal as fuel
Fuel is directly related to the efficiency of boiler, and indirectly affects the burning degree and heat loss of solid fuel. Different boiler needs different fuel. The boiler of ZG Boiler are DZL packaged chain grate boiler, SZL shop-assembled chain grate boiler, DHL corner tube chain grate boiler, SHL field-assembled chain grate boiler, which can meet different needs of customers.
Strengthen training janitor
The operation skill level of janitor not only affects the safety of the boiler combustion, also affects the combustion efficiency of solid fuel. The janitor should clean coal leakage timely to reduce solid incomplete combustion.
Incomplete burning of coal will generate a lot of harmful gas, which is also a waste of energy. Improving the combustion efficiency of coal fired boiler is vital for both enterprises and environment.
Get An Instant Quotation
For all inquiries, please fill in the form below (* are required) to send us a brief message, and we will get back to you as soon as possible.