Main Equipment of the CDQ Waste Heat Boilers
2021-08-10 15:59:01
CDQ is mainly composed of red coke loading equipment, hoist, dry quenching furnace, cold coke discharge equipment, electric locomotive and coke tank trolley, coke tank, primary dust collector, secondary dust collector, CDQ boiler unit, circulation It is composed of fan, dust removal ground station, water treatment unit, automatic control part, power generation part, etc.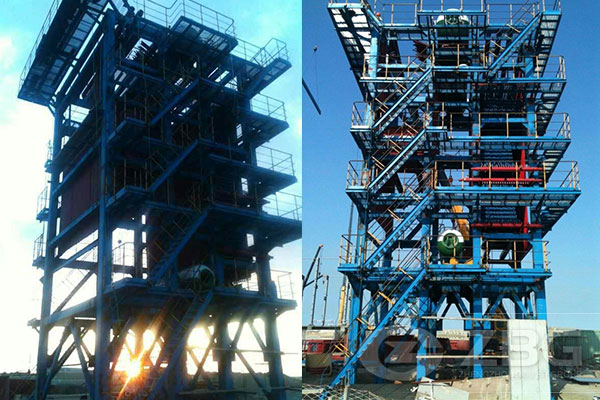 CDQ red coke loading equipment is composed of electric locomotive, coke tank trolley, rotating coke tank, APS positioning device, elevator, loading device and various limit sensors and other equipment, which plays a role in coke receiving, coke feeding and coke loading And so on.
The electric locomotive runs on the coke quenching track on the coke side, and is used to pull and brake the coke tank trolley, control the rotation of the circular rotating coke tank, and complete the task of picking up the red coke. The electric locomotive is mainly composed of the car body, running device, braking device, air circuit system, air conditioning system and electrical system. The rotating coke tank is used to transport the red coke pushed out from the carbonization chamber, and cooperate with other equipment to load the red coke into the dry quenching furnace.
The hoist runs on the hoisting derrick and the track of the dry quenching furnace roof to lift and move the coke tank full of red coke to the top of the dry quenching furnace, and cooperate with the charging device to load the red coke into the dry quenching furnace. After the red coke is loaded, the empty can is lifted, walked and lowered and seated on the coke can trolley. The loading device is located on the top of the dry quenching furnace, and cooperates with the elevator to load the red coke in the coke tank into the dry quenching furnace. The coke dry quenching and cold coke discharge equipment consists of a coke discharge device and a coke conveying belt.
The coke discharge device is located at the bottom of the dry quenching furnace, and discharges the cooled coke to the belt conveyor quantitatively, continuously and in a sealed manner. The coke discharging device is composed of flat gate, electromagnetic vibrating feeder, rotary sealing valve, trolley, coke discharging chute, automatic lubrication device, purge fan, dust removal pipeline, maintenance crane and other equipment. There are four CO alarms around the coke discharging device. Device. The structure of the dry quenching furnace is divided into round and square. The structure of the dry quenching furnace is generally round. The circular dry quenching furnace is composed of a pre-storage section, a ramp area and a cooling section. CDQ gas circulation equipment is composed of circulating fan, feed water preheater, primary dust collector, boiler and secondary dust collector.
Want to know more details about CDQ waste heat boilers? Welcome to consult online customer service, or directly call +86 177 1999 3430, ZBG Boiler Group will serve you wholeheartedly!