ZBG ASME Boiler And Pressure Vessel Standard
2017-04-10 09:05:09
What is ASME certification?
ASME (American Society of Mechanical Engineers), the American Society of Mechanical Engineers was founded in 1880, is a great authority and influence of the international academic organization. ASME is principally engaged in the development of science and technology in the field of mechanical engineering and its related fields, encourages basic research, facilitates academic exchanges, develops cooperation with other engineering and associations, carries out standardization activities and develops mechanical specifications and standards.
ASME is the most widely used in the international market standards, recognized by the world, holding ASME certificate can prove that the management and technology companies have reached the international level.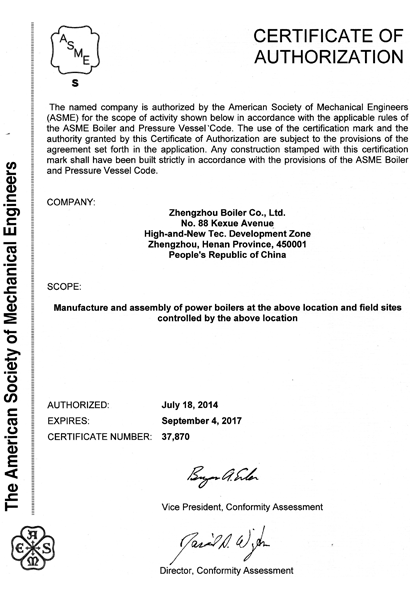 ASME standard international application
Today, ASME boilers have been adopted by almost all US states, Canadian and Mexican provinces (except South Carolina) for domestic boilers and pressure vessel safety regulations. With the increasing use of ASME certified stamping, some countries in South America and Australia have also recognized and requested additional ASME certification stamps. This means that all boilers used in North America within the scope of the ASME Code must be designed, manufactured and tested in accordance with the ASME Code and are subject to ASME stamps.
ASME standard & ZBG
Zhengzhou Boiler Co., Ltd. took the lead in obtaining ASME U and ASME S Certificates in the same industry, the products are exported to Russia, Iran, South Korea, Indonesia, Costa Rica, Mexico and other countries and regions.
With the continuous expansion of domestic and foreign markets, to build first-class wisdom factory new plan is also officially launched, which means that ZBG will use the world's most advanced lean concept, and the need to better resources to layout high-end manufacturing, also rely on lean manufacturing management system to meet their own international development needs.

Get An Instant Quotation
For all inquiries, please fill in the form below (* are required) to send us a brief message, and we will get back to you as soon as possible.