ZBG Has Obtained CU-TR Certification
2017-04-21 10:59:28
The technical regulations of the Customs Union conformity certificates (CU-TR certification) was Formulated based on the agreement "Common guidelines and rules about the technical specification of the Republic of Kazakhstan, the Republic of Belarus and the Russian Federation" signed by Russia, Belarus, Kazakhstan October 18, 2010. The Customs Union is committed to developing harmonized standards and requirements to ensure product safety in order to eliminate the existing trade and technical barriers, promote the free flow of trade in trade unions, better achieve unified technical supervision, and gradually integrate the security technologies of member countries of the Customs Union Claim.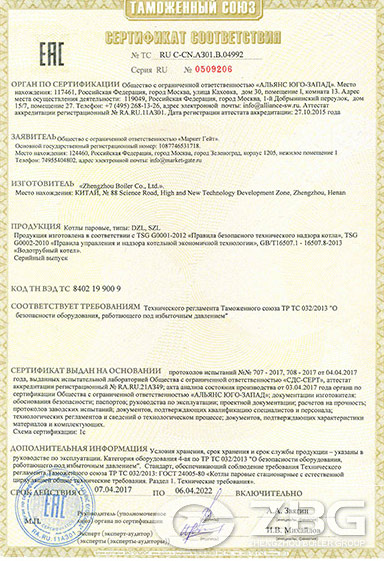 The certification is common in Russia, Belarus and Kazakhstan, the certificate category includes the certificate and compliance declaration, and use EAC as a unified logo. ZBG equipment is included one of the products in the Customs Union certification list. Obtaining CU-TR certification is essential to expand the international trade territory and seize the Russia, Belarus and Kazakhstan market for ZBG, especially with promoting " The Belt and Road "strategy, the "West-bound" becomes the trend, which includes Russia, Kazakhstan, Belarus and other countries.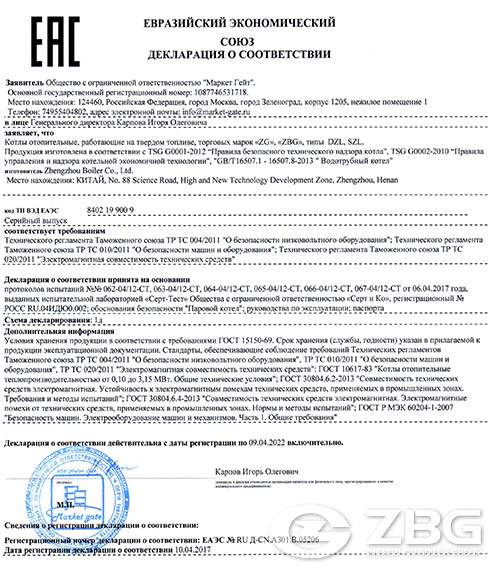 In recent years, ZBG has been committed to open up overseas markets, has obtained the American Association of Mechanical Engineers ASME certification, Malaysia DOSH certification and other international trade permits, this series of certification not only help ZBG products successfully exported to many countries and regions , But also the best evidence of ZBG brand and ZBG quality. with the continuous extending of the company's international influence, ZBG has attracted the visits of many foreign investors and dealers, ZBG will firm "going out" strategic, and committed to high-quality products and services for global customers.
Get An Instant Quotation
For all inquiries, please fill in the form below (* are required) to send us a brief message, and we will get back to you as soon as possible.