Pulp and Paper Industry Boiler
As the paper & pulp industry moves towards more integrated mills and seeks to increase productivity, ZG Group continues to support its efforts by supplying high-capacity trailer-mounted watertube boilers that easily meet the performance and energy demands of this evolving paper and pulp industry.
The pulp and paper industry comprises companies that use wood as raw material and produce pulp, paper, the steam produced in the boilers is used to cook wood chips (along with the cooking chemicals). Steam is sent to dryer cans or Yankee dryer to remove the water from the sheet that the drainage, vacuum, and mechanical pressing sections of the paper machine can't accomplish. In contrast to the food industry, the industry includes some of the larger industrial boilers, Pulp & Paper Mill boilers and recovery systems are designed to utilize waste by-products to fuel their power needs.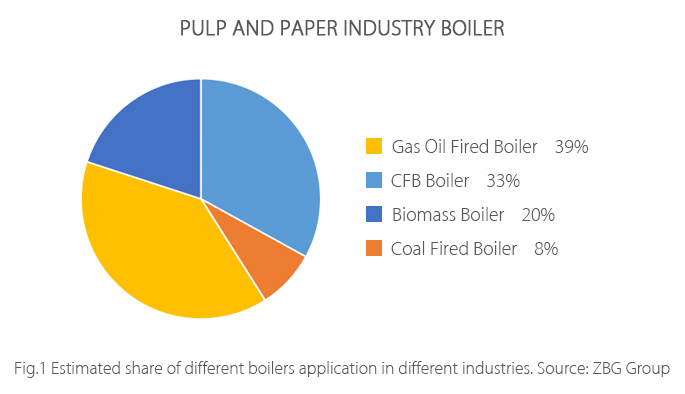 Which type of boilers apply to this industry?
SZS series oil and gas fired boiler is a packaged water tube boiler with double drums and D-type layout, burning Natural Gas, Light Oil, Heavy Oil, Bl...

Request a Quotation Chat online

DHL series coal fired corner tube boiler is an high efficient and energy saving product, with reliable water circulation, efficient combustion, low em...

Request a Quotation Chat online

The CFB power plant boiler has high thermal efficiency and wide fuel range burning coal, biomass, or co-firing of coal and biomass. It can be used in ...

Request a Quotation Chat online
Pulp and Paper Industry Boiler Projects