I Am Looking for a 2 Ton Chain Grate Steam Boiler
2021-11-15 09:09:44
Dear, Good day to you, I am looking for a 2 ton chain grate steam boiler which run by using coal as a fuel. kindly send me the technical specification along with quotation.
2 ton coal fired boiler specification
Rated steam capacity: 2t/h
Rated working pressure: 1.0MPa
Rated steam temperature: 184°C
Feed water temperature: 20°C
Exhaust gas temperature: 168.5°C
Design thermal efficiency: 77.9%
Design fuel: class II bituminous coal
Model: DZL series coal fired boiler
Capacity: 2 ton per hour
Application: cleaning service
Background
In February, 2015, a Cleaning Services Limited Company ordered one set of 2 ton packaged chain grate coal fired boiler. The company is mainly engaged in hotels, hospitals, bedding, table supplies cleaning and washing service in Luoyang, Yichuan, Yiyang, Songxian, Luanchuan, Ruyang, Yangshi and other cities. The company has three automatic washing lines with an ability of daily 20,000 sets of bedding or table supplies. This time the company purchased our coal fired boiler for better its service ability.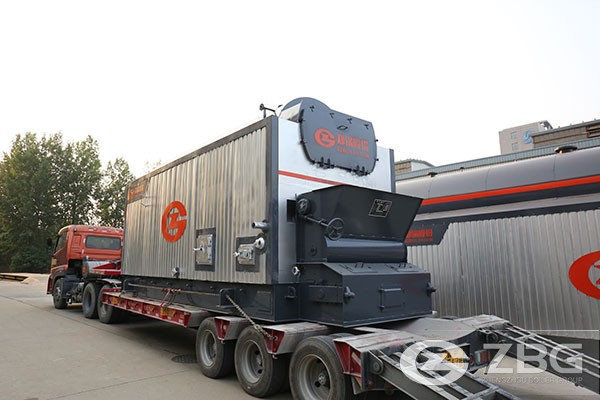 2 ton chain grate steam boiler
The DZL2-1.0-AII single-drum horizontal packaged traveling grate industrial steam boiler is a three-pass water-fire tube boiler, the two sides of chain grate industrial steam boiler is equipped with water cooling wall, forming the boiler's furnace and convection gas flue and the inner boiler drum is equipped with single-return corrugated tube. The coverage rate of the front arch and back arch reach 77.3%, beneficial for combustion of fuel with low volatile matter.
Packaged Chain Grate Biomass Steam Boiler Price
The price of 2 ton biomass packaged chain grate steam boiler is affected by many factors and we'd like to give a good price to clients. However, the price is not the only factor when choose the equipment, quality is quite important. Our steam boiler is built in accordance with the ASME S and ISO standards, the wet back design has proven to give much longer useful life cycles than dry back boilers, and each unit is tested and inspected before it is transported to buyer.
Get An Instant Quotation
For all inquiries, please fill in the form below (* are required) to send us a brief message, and we will get back to you as soon as possible.