Gas/Oil Power Plant Boiler Fuel Cost
2017-07-19 17:15:40
A gas/oil power plant is a power station which burns natural gas, coke oven gas, blast furnace gas, LPG, light oil, coal or petroleum to produce electricity. Central station gas/oil power plants are designed on a large scale for continuous operation. In many countries, such plants provide most of the electrical energy used. Gas or oil power stations have machinery to convert the heat energy of combustion into mechanical energy, which then operates an electrical generator. The prime mover may be a steam turbine, a gas turbine or, in small plants, a reciprocating internal combustion engine. All plants use the energy extracted from expanding gas, either steam or combustion gases.
About gas/oil power plant boiler fuel cost, take natural gas power plant boiler for example. The fuel cost of natural gas power station is not only related to the price of natural gas, but also related to the power supply efficiency of generator set. According to the 1 kW 'H output power =3.6 MJ, the fuel cost of the gas station can be expressed as:
COF = ((( 1 x 3600 / 4.1868 ) / Q / η) X Pgas
COF -- power plant fuel costs ($/kWh);
Q -- calorific value of natural gas (kcal/m3);
η -- unit heating efficiency (%);
Pgas -- the market price of natural gas (/m3).
In the natural gas power generation fuel costs, in addition to most of the natural gas costs of raw materials, but also includes a small amount of the water and materials costs.
Main equipments of oil/gas power plant boiler contain gas turbines, compression machines, generator, large-scale carbon dioxide fire extinguishing device and corresponding control systems, steam turbines, heaters, deaerator, high voltage transmission equipment and power distribution equipment for factories and so on.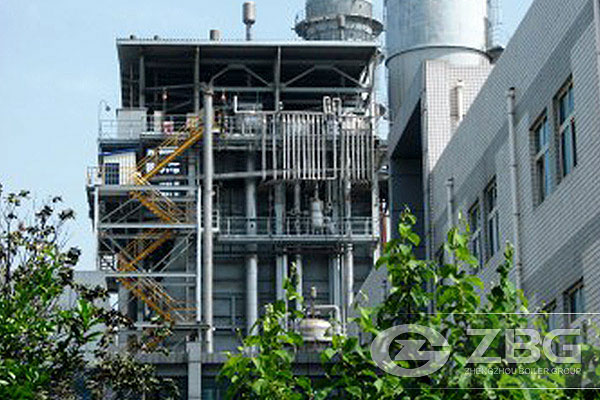 ZBG gas/oil fired power plant boiler adopts mechatronics control equipment and PLC combined control mode to realize boiler automatic control and operation, and has many advantages such as convenient operation, sufficient burning, no pollution in the emission, easy installation and so on.
To learn about the gas/oil power plant boiler fuel cost, please contact us.