6 Ton/Hour Steam Boiler With Oil Burner (Diesel) or Gas for Our Feed Mill Production Unit (FOB)
2022-02-28 08:42:07
The feed factory is also inseparable from steam in the production process. In the process of feed processing, boiler steam is used to make the temperature of the material reach 80-85°C and the moisture content to reach about 17%, and then the pellets of different particle sizes are formed by a granulator. The editor received an inquiry from a customer about the price of a 6-ton natural gas steam boiler in a feed factory。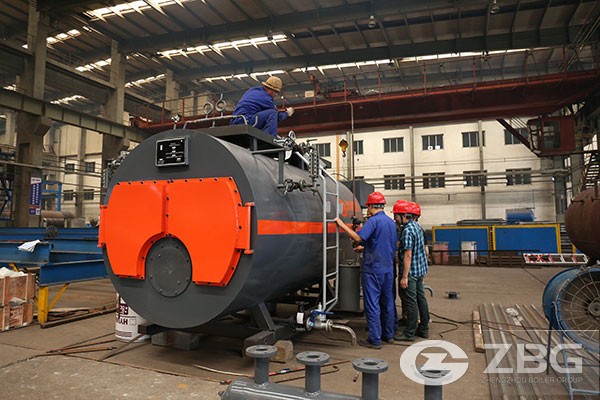 6 ton gas steam boiler
1. Parameters of 6 ton gas steam boiler
Boiler model: WNS6-1.25-Y(Q)
Evaporation: 6t/h
Rated pressure: 1.25MPa
Heating area: 165㎡
Feed water temperature: 20℃
Fuel oil: 380Kg/h
Natural gas: 400Nm3/h
Exhaust temperature: 210℃
Natural gas consumption: 430Nm³/h
Maximum shipping size: 5300*2380*2694mm
2. the price of 6 tons of natural gas steam boiler
The price of a 6-ton gas fired steam boiler is more than 300,000 yuan. If it is equipped with low-nitrogen burners, control cabinets and other auxiliary equipment, the price will be higher. The price is always floating, and it is best to consult the business manager if you want to know the real-time price.
3. Case of chemical 6-ton WNS oil-fired gas boiler
Project address: Shaanxi
Purchase equipment: WNS6-1.25-YQ
Application field: chemical plant production steam supply
The steam boiler used in the case, whether it is a natural gas steam boiler or a hot water boiler, as long as it is used in the Beijing area, it needs to meet the requirement of nitrogen oxide emission below 30 mg. WNS6-1.25-YQ purchased by Shaanxi Chemical Plant, compared with SZS boiler with the same good steam quality, WNS gas boiler has a capacity advantage for small capacity products.
Get An Instant Quotation
For all inquiries, please fill in the form below (* are required) to send us a brief message, and we will get back to you as soon as possible.