35 TPH HFO Steam Boiler, Pressure 45bar, Temperature 400℃
2022-02-21 08:38:27
Recently got an enquiry from a user who is setting up a scrap metal processing plant and found a steam turbine that might suit our needs, requiring about 35 tons of steam at 45bar and 400°C. Therefore, He wants to purchase a 35 tons of steam boiler that can burn HFO.
HFO steam boiler
First of all, let's take a look at what is an HFO steam boiler. HFO steam boilers are a type of oil-fired boilers. Heavy Fuel Oil (HFO) is a category of fuel oils of a tar-like consistency. Also known as bunker fuel, or residual fuel oil, HFO is the result or remnant from the distillation and cracking process of petroleum. HFO is predominantly used as a fuel source for marine vessel propulsion due to its relatively low cost compared to cleaner fuel sources such as distillates.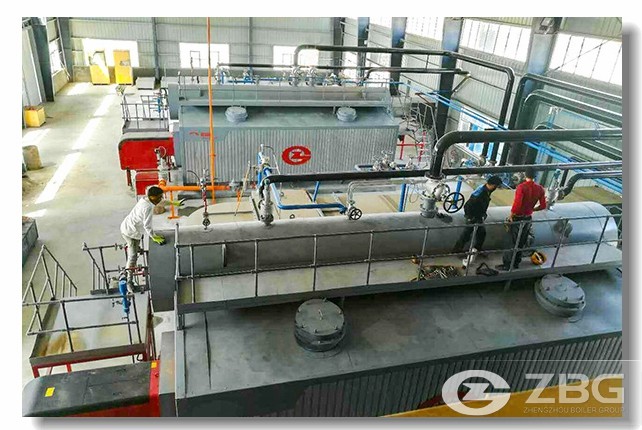 HFO steam boiler
Model:ZG35-3.82-Q
Capacity:70 ton
Application:power generation
The customer is ordering our two sets of ZG35-3.82-Q gas fired steam boilers in October for power generation. The company has a coal-fired boiler, in order to comply with the requirements of environmental protection, they will replace gas fired boilers. At present, the two devices are being installed. It is expected that the installation will be completed and put into operation in February 2018. General, the oil and gas fired boiler is fast-assembly installation boiler and whole factory, but the larger tonnage of this type boiler, the layout of the complex structure, so this equipment is made in bulk. The local weather is relatively cold at present, which will have an impact on the welding quality. Therefore, the constructors can ensure the welding temperature for the welding quality by heating and other ways.
Get An Instant Quotation
For all inquiries, please fill in the form below (* are required) to send us a brief message, and we will get back to you as soon as possible.