Single Drum Water-Fire Tube Boiler Supplier
2016-08-23 16:52:32
It seems that industrial boilers are usually single-drum or double-drum structure. The boiler manufacturer ZBG supplies DZL series, DHL series, and DHX series single-drum boilers, which can burn bituminous coal, brown coal, soft coal, wood, rice husk, biomass pellet, etc. Today let's together have a brief understanding of the DZL single drum water-fire tube boiler.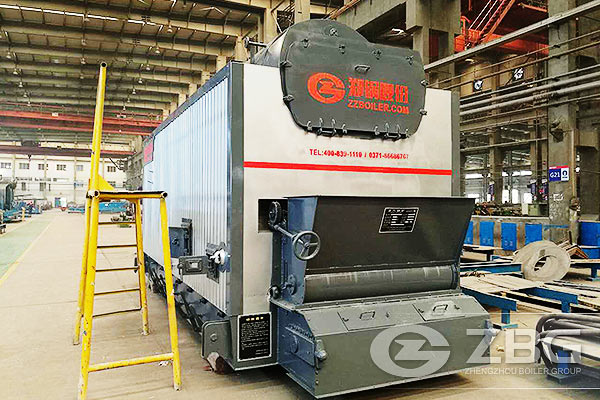 Features of the DZL series single drum boiler
1. The usage of high-performance heat transfer components - threaded pipe, with a reasonable gas flow rate, the boiler thermal efficiency is higher 6-8 percentage points than the state high professional standards.
2. Arch tube plate, thread to make pot pipe from the quasi-rigid body shell variable based elastomer with the airfoil stack, completely avoid the defects that traditional high-temperature pyrotechnic tube boiler tube plate cracking.
3. Reasonable and unique water circulation loop backwater ejector device, improved the increased water velocity, to avoid the water-wall tube break.
4. The usage of inertial separation of dust furnace, supplemented by high-performance multi-collector, so that the concentration of dust emission boiler to meet the demand for a class.
5. Reasonable structure of the boiler does not need a steel frame can support the weight of its own.
6. The usage of energy, strong radiation furnace arch, can guarantee the stability of fuel combustion.
The boiler is usually small capacity ranging from 2-10t / h, compact structure, single-layer arrangement, saving floor-area. Using high standard, high-quality auxiliary equipment, accessories and automatic control equipment, to ensure guarantee security, stability operations, and to reduce the labor intensity of boiler operators.
Get An Instant Quotation
For all inquiries, please fill in the form below (* are required) to send us a brief message, and we will get back to you as soon as possible.