Horizontal Water and Fire Tube 2 Ton Coal Fired Boiler
2016-08-23 16:42:06
DZL series chain grate boiler is horizontal water and fire tube boiler. We can supply 2 ton - 10 ton packaged coal fired boilers, and have coal fired steam boiler for sale in Vietnam. DZL2-1.0-AII.P single-drum horizontal packaged traveling grate industrial steam boiler in Vietnam is a three-pass water-fire tube boiler, whose rated steam output is 2t/h, whose rated steam pressure is 1.0MPa, rated steam temperature 184°C, burning class II bituminous coal.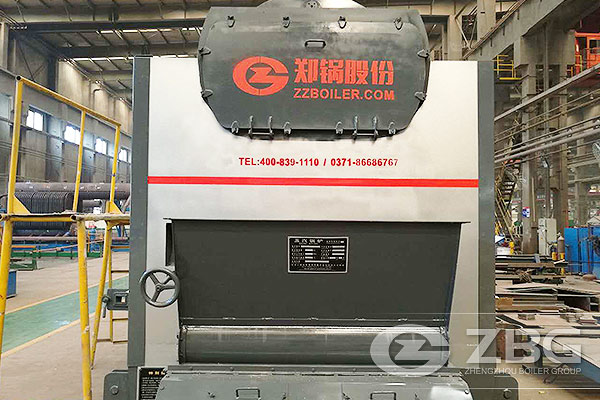 2 ton chain grate coal fired steam boiler in Vietnam
The two sides of DZL2-1.0-AII.P industrial steam boiler is equipped with water cooling wall, forming the boiler's furnace and convection gas flue and the inner boiler drum is equipped with single-return corrugated tube. The coverage rate of the front arch and back arch reach 77.3%, beneficial for combustion of fuel with low volatile matter.
The Vietnam chain grate is adopted in order to realize automatic combustion. The ID fan and FD fan is adopted to realize mechanical ventilation and the slag machine is adopted to realize mechanical slag-out.
With complete control monitors, running of the boiler is safe and reliable. This DZL2-1.0-AII.P industrial steam boiler has compact structure and small volume and leave the factory in packaged form. When the boiler arrives at the site, the boiler can start running just after the feeding machine, slag remover, valves, pipes are installed. So DZL2-1.0-AII.P industrial steam boiler has the advantages of convenient installation, short installation cycle and less basic construction investment.
Get An Instant Quotation
For all inquiries, please fill in the form below (* are required) to send us a brief message, and we will get back to you as soon as possible.