Oil Fuel Steam Boiler for Corrugation Plant
2022-06-16 08:51:18
In corrugation plant, steam is the necessity. Steam is commonly used in industrial environments for power generation and in heating and drying applications. On a paper machine, steam is used to dry the sheet of paper to a target moisture content before it is wound up on large rolls that can be transported, stored and shipped. Owing to its high heat transmission capacity, saturated steam is typically used as a heat source for cooking, drying.
Oil Fuel Steam Boiler for Corrugation Plant
The steam produced in the boilers is used to cook wood chips (along with the cooking chemicals). Steam is sent to dryer cans or Yankee dryer to remove the water from the sheet that the drainage, vacuum, and mechanical pressing sections of the paper machine can't accomplish. The steam from the boilers is also used throughout the mill in heat exchangers, steam-traced piping, stock chests, etc.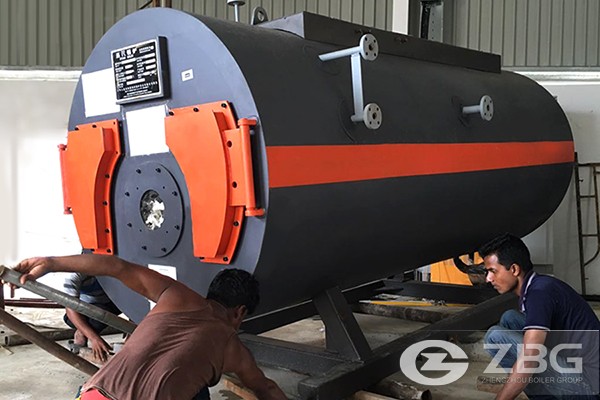 oil-fuel-steam-boiler
Mode:SZS20-1.25-Q
Capacity:40 tons per hour
Application:Paper industry
This production line in Iran was invested by an Iran customer who finally chose ZBG's solution after many comparisons and analyses. In this Iran project, we recommended the SZS series boiler, water tube and packaged type, high combustion efficiency and automatic control, which can better meet the paper plant's needs.
A few days ago, the efficiency test report data of SZS20-1.25-Y.Q boilers produced by Zhengzhou Boiler Co., Ltd. shows that the thermal efficiency reached 98.17%, higher than thermal efficiency target value of the national standard. In particular, the emission concentration of NOx is 26.53mg / m3, which attract a lot of attention, and has been highly praised by customers.
ZBG low nitrogen boilers adopt advanced technology: flue gas recirculation(FGR), staged combustion technology, FPB fully premixed combustion. With over 70 years experience and strong technology power, we have manufactured 9 series 200 types of boilers, including Steam Boiler, Hot Water Boiler Power Plant Boiler, Fire Tube Boiler, Water Tube Boiler, CFB Boiler, Chain Grate Boiler, Biomass Fired Boiler, Gas & Oil Fired Boiler, and Waste Heat Recovery Boiler. The products widely applies in manufacturing industry (chemical, coking, paper-making, food processing, etc.), thermal power plant, building material and other industry applications. no matter what industry you are engaged in, ZBG will be able to help you.