Fuel Consumption of 10.5mw Oil and Gas Dual-purpose Hot Water Boiler
2022-06-06 08:39:34
Boilers generate steam that aids in the cooking, sanitizing, processing, and packaging in the food industry. Processing in this industry takes place by direct heating or heating through hot water. Food processing industries generally use coals, natural gas, liquid fuel, and biomass as the fuels in the steam boiler.
Recently, a customer in Nigeria wanted to purchase a 10.5MW oil-gas dual-purpose hot water boiler. Customers have specific parameter specifications, as follows: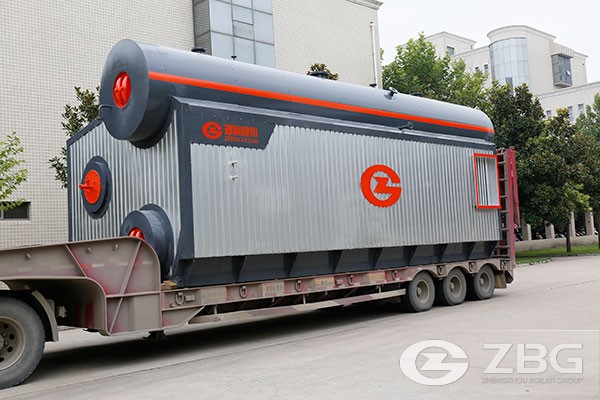 10.5MW Gas Oil Boiler
Rated capacity:10.5MW
Working pressure:1.0(1.6)Mpa
Steam temperature:115(150)℃
Feed temperature:70(90)℃
Testing efficiency:97.23%
Diesel consumption:1016.75 Kg/h
Gas consumption:1162Nm³/h
Outline dimension:6750*3182*3320 mm(L*W*H)
Application: To use in factory
Here are some of the main requirements of the boiler for food industry:
High Energy Efficiency:As mentioned, due to long operational cycles and the challenge of downtime, boilers lose their energy efficiency. Therefore, it is important to ensure that the boiler selected for food processing plants ensures high energy and water efficiency.
Sustainability:Industries with operation cycles of long duration face the difficulty of higher greenhouse emission that causes harm to the environment and defies the environmental law codes. Steam boilers with assured sustainability greatly help in maintaining and reducing harmful emissions.
Sturdy to handle fluctuating demands:Boilers that can adapt to downtime quickly for fluctuating heating and cooling demands may prove a valuable asset for the food industry. It would avoid excess use and cost of fuels, increase the boiler efficiency and reduce greenhouse emissions that would save the annual budget of the process plant.
Easy to Maintain:It is undeniably important that the boilers for the food industry are safe, reliable, and easy to maintain for the longer life span of the system.
The food industry is emerging as one of the dominant industries in the world, and therefore the boilers for the food industry must be of the highest quality and efficiency for smooth processing operations.
Get An Instant Quotation
For all inquiries, please fill in the form below (* are required) to send us a brief message, and we will get back to you as soon as possible.