2 Tons Per Hour Heavy Oil Fired Steam Boiler in Togo
2022-06-02 08:58:45
At present we have just been to contact by a businesswoman of Togo (West Africa) for a project of establishment in Lome of a factory of production of edible oil and soap.The client said "If your compagny is able to provide us this heavy oil fired horizontal steam boiler with all necessary accessoiries and one year necessary spare parts, thanks for forwarding to us your detailed quotation with all technical specification and catalog."
One set of heavy oil fired horizontal steam boiler equipped with a economizer and all necessary accessories, complete water treatment station (water softener system with all necessary accessories), sampling device, daily oil tank with accessories, boiler room installation material with all necessary accessories (only connected to steam header) and one year necessary spare parts.
The technical specification of the steam boiler are : capacity : 2 Tons per hour, working pressure (rate pressure) : 1.6 Mpa (16 Bars), fuel : heavy oil, height of the chimney : 12 meters.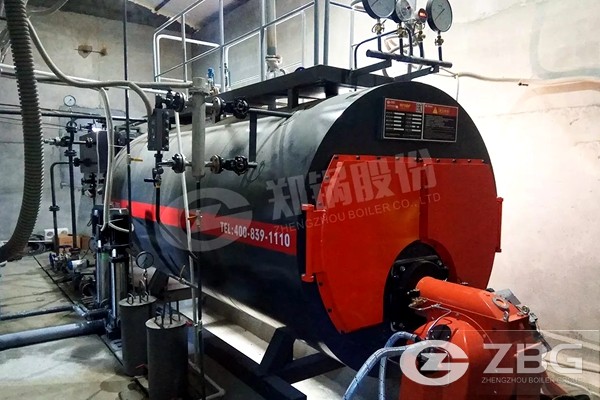 2 ton oil-fired boiler
What is the fuel consumption per hour of a 2 ton oil-fired boiler?
The thermal efficiency of the 2-ton oil-fired steam boiler produced by ZBG boiler manufacturer is as high as 95%, and the calorific value of oil fuel is generally relatively high, so the fuel consumption of ZBG boiler manufacturer's 2-ton oil-fired steam boiler per hour is about 130 kg, with an average of 1 ton The fuel consumption of the oil-fired steam boiler is 65 kg.
Mode:WNS2-1.25-Y(Q)
Capacity:2 tons per hour
Application:Food processing
In December, 2010, we had one set of 2 ton gas oil fired steam boiler exported to Kenya. According to client's requirement, the boiler was designed as dual fuel steam boiler burning both natural gas and light oil, and it was used in food processing. The food group of Kenya spoke highly of the boiler efficiency and fuel saving.
Dual fuel gas oil boiler parameters
Rated steam capacity: 2 t/h
Rated steam pressure: 1.25 MPa
Rated steam temperature: 184 ℃
Feeding water temperature: 20 ℃
Designing efficiency : 88.3 %
Designing fuel: light oil or natural gas
Consumption of fuel: 132.6 kg/h、151 Nm3/h
Gas oil boiler supplier in Kenya
ZG Boiler is a manufacturer and supplier of gas oil fired boiler, we provide our clients right heating or power solutions. Our gas oil fired steam boilers are usually used in central heating, food processing, paper industry, textile mill, hospital, hotel, etc. Tailor-designed boiler production is to meet each client's need. In 2014, we also had one set of 3 ton gas fired steam boiler in food processing used in Indonesia.
The 2-ton oil-fired steam boiler produced by ZBG boiler manufacturer is a boiler product developed in cooperation with German technology, and is also an implementation sub-project of the World Bank GEF efficient and environmentally friendly boiler project. This series of boilers are quick-installed boilers, mainly composed of boiler body, connecting flue, burner, soda system, instrument, economizer, condenser, etc. The combustion is clean, the emission is pollution-free, the operation is convenient, and the output is sufficient.