Advantages of WNS Gas Fired Boiler
2017-08-24 17:45:01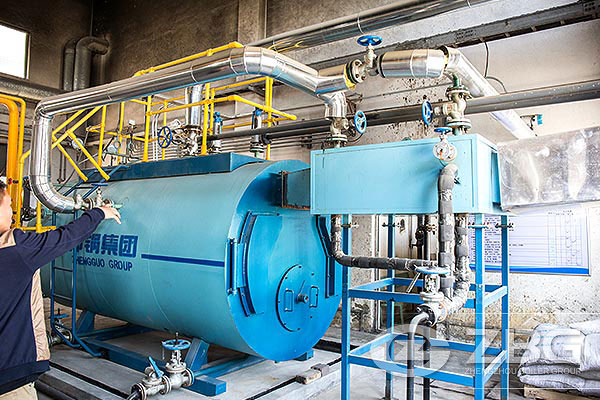 WNS series gas fired boilers with gas as a fuel, generally use the micro positive pressure combustion, do not need to configure induced draft fan, which has the advantages of simple structure, convenient manufacture, short installation period, low maintenance costs and so on.
The advantages of WNS gas fired boiler are mainly embodied in the following aspects:
1. Good usability
The combustion process is mixed with air, small exhaust gas loss, high efficiency; the fuel contains the sulfur content and the ash is small, the heating surface does not appear the high temperature coking and the corrosive phenomenon; high flue gas flow rate, small volume, low metal.
2. Flexible adjustment performance
The calorific value of the gas can be adjusted easily, and the two fuels can be mixed and used; the same boiler can be applied to various fuels; have a strong ability to adapt to the variation of the heat load, easy to achieve combustion adjustment.
3.Small environmental pollution
Ash and sulfur content is much lower than coal and oil fuel; the pollution of the soil is small; low dust content in flue gas, the air pollution is small; the main pollutants are nitrogen oxides produced by burning.
4. Convenient transportation
Mainly container transport, do not need to disassemble; direct use, fuel do not need to be crushed before burning like coal.
Advantages of WNS gas fired boiler structure
1. the boiler adopts the internationally popular three pass structure, large combustion chamber settings, full combustion.
2. Adopts advanced corrugated furnace and the smoke tube adopts thread structure to increase heat transfer area and heat transfer effectiveness, boiler thermal efficiency.
3. The boiler adopts wet back structure, which has high reliability and low maintenance cost.
4.Design a variety of protective functions such as over-temperature, over pressure, water shortage, leak detection, flameout and so on. The boiler is safe and reliable.
5. Fully automatic control of burner.