20 Ton Gas Fired Water Tube Boiler for Food & Beverage
2016-04-26 14:56:57
Steam is the most energy efficient, reliable and flexible way to transfer heat for many food and beverage operations. We, a trustful manufacturer of industrial steam boiler, has the SZS series 20 ton gas fired steam boiler for food & beverage plant.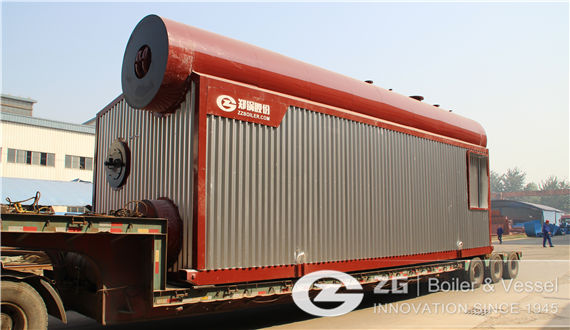 "D" Type water tube gas fired boiler in food & beverage industry
1. "D" Type Gas Fired Boiler furnace structure is horizontal three pass wet back structure. Corrugated furnace increases heated area to improve the thermal efficiency of the Gas Fired Boiler.
2. gas speed design is reasonable, which reduces friction and air resistance, so that the boiler's operation cost is low and with long life-span.
3. The front and back gas chest doors are movable. "D" Type gas steam boiler with manholes and hand holes, simplifies cleaning, and makes maintenance and upkeep convenient.
4. With advanced automatic control system, after the user sets up easily, SZS series "D" Type Gas Boiler can be operate automatically according to set procedures.
Water tube gas fired boiler supplier and manufacturer
SZS series gas fired boiler is double-drum packaged water tube boiler, good quality, high automatic degree to meet industry production need.
Get An Instant Quotation
For all inquiries, please fill in the form below (* are required) to send us a brief message, and we will get back to you as soon as possible.