ZG People: Liu Shaoqing---Golden Boiler Installation Engineer
2015-11-12 08:32:30
Shaoqing Liu, a senior project engineer of ZG Boiler, has been a member here since 1989. In the past 26 years, he has specialized in boiler installation and technical support nearly 10 years. Ten years ago, Liu was a worker in the test department. Now he is busy in boiler installation in North America, Central Asia, Southeast Asia and other countries in the world.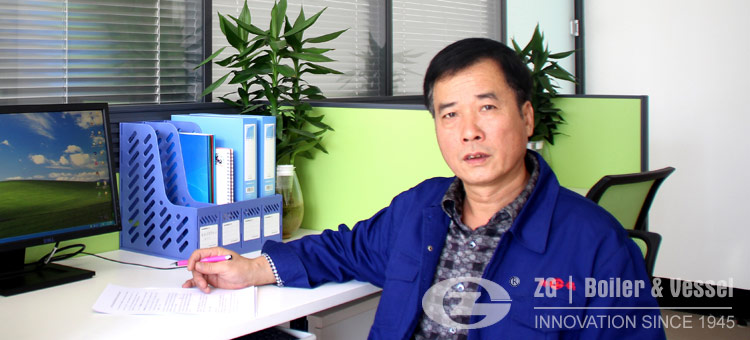 Engineer Liu in His Office
"Taking the customers' needs as the center of our work, 24 hours awaiting orders at all times, and completing each service attentively carefully" is what installation engineers in ZG valued and is also the service purpose that Engineer Liu has in mind. Scene was until now experienced from a boiler inspector, steadfastness that the technical exquisite project engineer, Engineer Liu works carefully and has made steady progress, but he actually repeatedly emphasized in the interview: I am only an ordinary installation engineer in the engineering department in ZG.
Down-to-Earth Work, Reach A Big Goal
Success comes from hard working. From an ordinary steel structure inspector, tossing among assembly workshop and workshop of the container, to inspection director, Engineer Liu spent 15 years. After 15 years of accumulation of working experience, devotion in learning and careful study, engineer has been familiar with each component of boilers and all the installation standards. At the same time, all these things laid a solid foundation for his installation working career.
His first task in the project department is the business travel to Shandong for the nuclear power project. When he left alone, he was a little nervous; however, he became excited at the customer site: the installation problems involved and consultation problems at the customer site, all have been learned at the workshop, so that the first task was unexpectedly smoothly successful.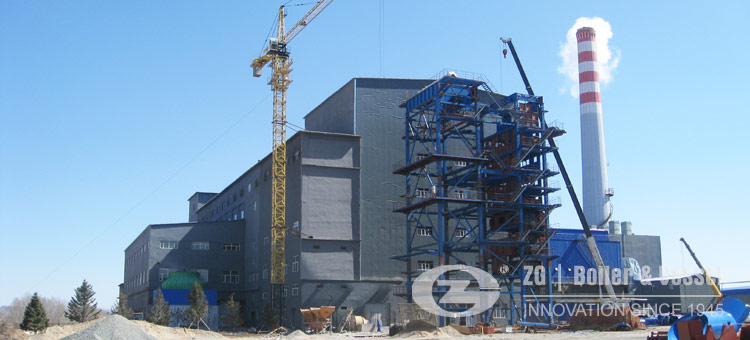 Boiler installation site in China
From that time, he started his career as an installation engineer of ZG. Through equipment installation, commissioning, and operator training etc., and a series of summary from study, Engineer Liu became an installation engineer from the director of quality supervision. During those years, he has business trips to Shandong, northeast and other regions, and his skill on boiler installation has became more and more consummate.
Technological Creation and Golden Service
1. First visit to India Innovation for Better Assistance
In his seventeenth year in Zhengzhou Boiler, there were problems about heat treatment of welding on the superheater outlet header in India Visakhapatnam 35 ton circulation fluidized bed boiler. As he knew more about the external circulating fluidized bed boiler, there was no wonder he got that opportunity, and he also got the first chance to work abroad.
35 ton CFB Boiler installing in India
When he was informed the business trip to India, he was not very surprised, because he knew that sooner or later he would be sent to abroad since he turned to be an installation engineer; moreover, he has accumulated a lot of experience in the field from the past two years here. But when he got on the plane, he was still in an inexplicable excitement.
In India, at the beginning, he realized that foreign customers have differences with us not only in language, diet but also in the boiler installation. However, After he fully understood the preparation of the customers and tried continuously, Engineer Liu developed a heat treatment plan for the first time, on which he offered technical support from purchase, installation to operation of the heat treatment equipment relevant technical support, so that the customers' fproblems could be solved timely and effectively. In the end of the project, he also organized the equipment operation training, in which he gave an intensive explanation on the the equipment commissioning and problems may encountered during trial operation. In addition, he wrote down solutions of problems may arise in their production line, to gave them a reference, and what he done was highly valued by them.
2. Mongolia Installation Service Timely and Efficiency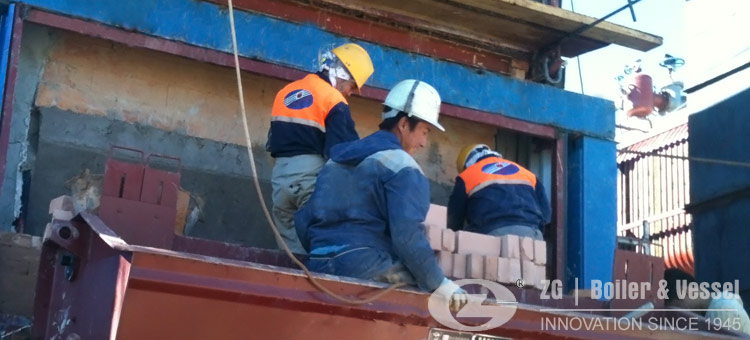 Mongolia 20 ton chain grate boiler installing
In July 2012, Engineer Liu was entrusted with the technical supporting task for 20 ton boiler in Mongolia totally in a sudden. The main problem was caused by loss of the convection bank on the installation spot. At that time because of the large time-consuming at manufacturing, transportation,and customs declaration formalities, Mongolia customers were very worried at the scene. After he got a brief understanding of the equipment installation condition, according to our company's production process, Engineer Liu utilized the simple manual bending tool and some other tools in the warehouse, helped and guided the manufacturing and installing, finally reached the related technical requirements. He not only solved the urgent problem, also saved cost for the customer. The user there spoke highly of him and sent a thanks letter to him for all he has done for them.
3. Supporting Kazakhstan project, perfect in difficulty solving
From June to August in 2015, Engineer Liu on behalf of ZG Boiler took apart in the National Key Project in Kazakhstan: the boiler installation work of NFC Kazakhstan Petroleum Coke Calcined Project. The petroleum coke calcined plant is totally designed by Chinese, which mainly using the carbon rotary flue gas that entering into boiler to generate steam for power generation. It is mainly composed by 2.45MPa,35T*2 middle pressure boilers and 4kw*4 generators. The project lasted three months/112 days to complete.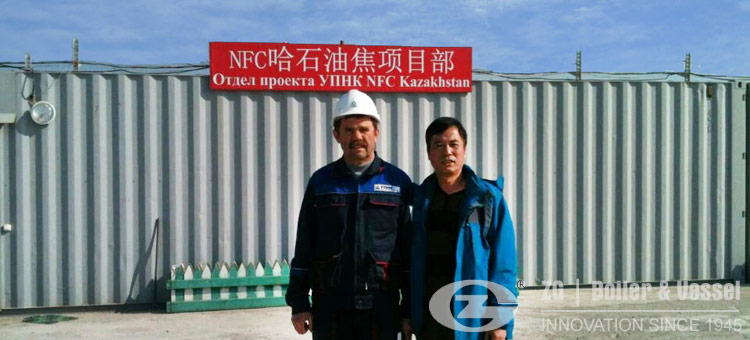 NFC Petroleum Coke Calcined Project Waste Heat Boiler Installation in Kazakhstan
According to Mr.Liu, the steel plate thickness of the boiler drum in that plant was 40mm, while in Kazakhstan expanding technology processing must be done if the thickness is over the national standard.But at that time, there were big difficulties in actual operation because the pipes were very long but center distance was far, what's worse, after drum expanding processing, the convection bank annealing work also was faced with tough problem.
But he finally found a way to solve the issue after many attempts. He took advantage of the aluminum feature to solve the problem of temperature measuring and achieved the expectation of "water pressure test without leakage". With the guarantee of multiple processes, the NFC petroleum coke calcined project was successfully completed, which not only realized low emission, low pollution and recycling use of raw material, above 99% dust removal rate, desulfurization rate as high as 95%, exhaust emission in full compliance with environmental standards, also raised kazakhstan highly recognition of ZG products and after-sales service.
On The Road
When thinking back to the business experience abroad, "though it is not that easy working abroad," Mr. Liu says, "it is also not so difficult as imagined."
Working in a foreign country, due to the language differences between countries and regions and poor English ability, communication is a big problem for him. Because of language problem, he usually tells the installation issues via translator, but if things related to technical problems is hard to communicate even translator cannot express it very clearly.He has to reply on drawing to communicate with local people. Expect for language, diet is also a problem. In some regions,it would be much better for him to have western food with the foreign workers, but sometimes, it is hard for him to accept local diet like India. So when the project schedule is tight, Engineer Liu just eat some bread or fast noodles; when he is not very busy, he will cook for himself, and his cooking has improved rapidly at that time.
As a project installation engineer, Mr. Liu Shaoqing is often on a business trip to Indonesia, India, Mongolia and other countries by himself. Only very short time he stays in company all the year around. He said, the biggest challenge is not the language and diet, but the missing for home and family. However, after the project is finished, clients there might invite him to visit local sightseeing and he can enjoy different views.
In October, the Vietnam boiler installation project will soon start, and he has to travel to another country. We believer Engineer Liu will go on working hard and creating new excellence.