What You Should Consider When Design and Manufacture Autoclaves With Quick-Opening Doors
2016-03-09 10:14:39
Our autoclaves with quick-opening doors better meet your needs. While a number of factors should be taken into account when designing and operating industrial autoclaves: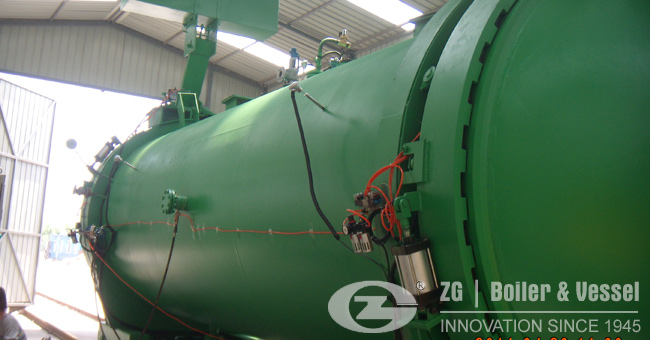 full-autoclaves with quick-opening doors
The autoclave should not be capable of being pressurized unless the door is completely closed, the securing mechanism fully engaged and the chamber sealed. This may be achieved by an interlocking device between the door safety mechanism and the pressuring system.
If pressure is applied from an external source, eg: steam, air or other gas, the interlock should be between the door safety mechanism, and the pressurizing fluid inlet valve, if pressure is raised by boiling liquid in the vessel, the interlock arrangement should be between the door-securing mechanism and the source of heat. Where pressure is allied by pump, the pump should not be able to pressurize the system unless the door securing mechanism is fully engaged.
The operator needs to be warned of any residual pressure in the vessel or of any process liquid in the vessel at an unsafe temperature before the door-securing mechanism can be disengaged. This may be achieved by providing a separate test cock interlocked with the door securing mechanism. The test cock should be of adequate size and so positioned that any discharge does not endanger any person.
The operator should take care that the door does not open violently because of any residual pressure remaining in the vessel. An example of a suitable device for this purpose is a safety catch which has to be released independently after the door-securing mechanism has been disengaged and after the door seal has been broken. The door should not be able to be opened until the temperature of the liquid has been reduced to a safe level. Also opening and closing of doors should only be carried out by properly trained personnel.
We have manufactured the automatic autoclaves with quick-opening doors, like FGZSY1.5-3.2, FGZSY1.5-2.5, FGZSY1.5-2.25. If you need China aerated concrete autoclave machines, please contact us!
Get An Instant Quotation
For all inquiries, please fill in the form below (* are required) to send us a brief message, and we will get back to you as soon as possible.