Industrial Steam Autoclave Structure And Components
2016-03-09 10:10:18
Steam autoclave is the pressure vessel and key equipment in the production of aerated concrete and autoclaved brick and other building materials. It is applicable for curing the cut body or brick under high temperature and high pressure. It is made up of Autoclave body device, Autoclave cover device, pendulous device, support, insulation, sealing device, pipeline valves instrument and other components. Affiliated parts include drainage device and electric control cabinet.
This paper will mainly analyze the autoclave components.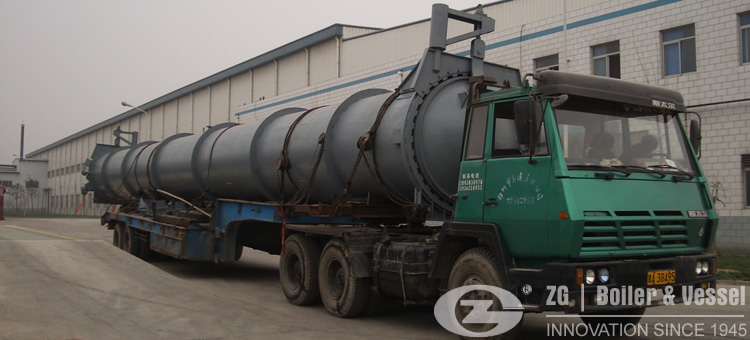 1. Autoclave body: it is mainly welded cylinder and Autoclave body flange. Rail is laying in the bottom of autoclave, for walking or parking the steam-curing car.Various of pipes arranged on the Autoclave body to exhaust steam and discharge condensed water and install all kinds of valves.
2. Autoclave cover: mainly welded Autoclave cover flange and spherical head.
3. Clamp: clamp is a whole ring forging, flange groove is set inside the clamp ring, on both sides of the flange groove around the circumference in distributes the flange groove-tooth. The tooth of Autoclave body flange and Autoclave cover flange are inside the flange groove. Meshing or demeshing respectively with the Autoclave cover and Autoclave body flange tooth as clamp rotating, the autoclave will close or open.
4. Swinging device: composed of counterweight box, swinging arm, support plate and other components. So Autoclave cover can swing up and down.
5. Rotary-hoop-gear component: in the opening door system, gear for clamp is manual and spare parts. It does not need to install when normal use.
6. Support: used to bear Autoclave body and made up of intermediate support, movable support, and end support. In addition to the intermediate support, other supports can move along the axial with the aid of roller when thermal expansion and contraction in the autoclave.
7. Insulation: to reduce heat loss when using autoclave (according to the nature and thickness of insulation material, users can control the Autoclave temperature by themselves ).
8. Sealing device: Made up of rubber sealing ring, cut-off valve and steam-inlet valve. The rubber sealing ring is set inside the sealing groove of Autoclave body flange, sealed steam will flow into sealing groove when autoclave operating, sealing ring will close against Autoclave cover and realize air-proofing.
9. Valve instruments: including pressure gauge, safety valve, thermometer or thermal resistance, ball valve, etc., for observing the autoclave operation.
10. Drainage device: including drainage pipe connector, steam trap, drainage valve, etc. Sinking in the pipe connector, condensed water flows out through the trap to avoid solid particle plugging trap; Drainage valve should discharge the condensed water and sludge whether regularly or not.
11. Electrical safety interlock devices: including control cabinet, electric- contact pressure gauges (or called as pressure transmitter), pressure warning unit, etc. all meet the 3rd, 20th requirements of Stationary Pressure Vessel Safety and Technology Supervision Regulation, to ensure security operation of autoclave.