How to optimize power plant boiler economic performance
2015-10-19 15:25:57
Fuel and boiler are the main factors that affect thermal power plant economic benefit. To optimize the power plant economic performance, we can reduce fuel and energy consumption, and cut down on comprehensive electricity cost.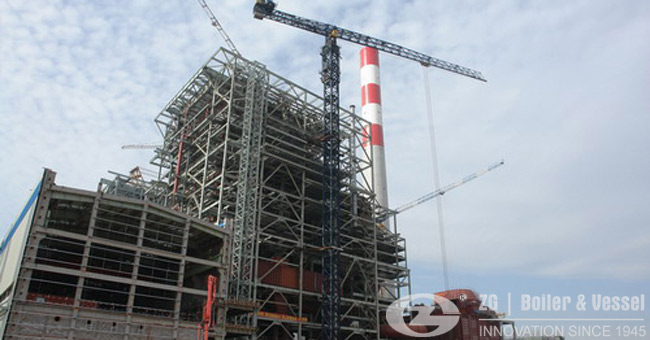 biomass power plant boiler installation site
Lower boiler fuel cost
According to the survey, power plant boiler fuel cost accounts for 60 to 70% of the total cost in power plant. We know coal quality seriously affects the boiler combustion efficiency and stability. If burning good quality coal, the boiler combustion is stability, combustion efficiency is high, and the unit is easy to take load. This not only can reduce the consumption of fuel, also more conducive to save the cost of power generation; Otherwise, boiler poor stability and low combustion efficiency can cause it boiler and auxiliary equipment wear and abrasion. Good controlling of power plant boiler fuel is the fundamental measure to realize energy saving in thermal power plant.
Boiler fuel and water-saving transformation
Reduction of fuel consumption and water consumption is also very beneficial to utility boilers for improving economic efficiency. Our power boilers adopt advanced fuel-saving technology to innovate burner and small oil gun.
Using biomass power plant boiler
Biomass power plant boiler refers to the boiler burning rice husk, straw, coffee grounds, palm kernel shell, wood for power generation. Biomass fuel boiler is a clean product to realize sustainable development. Biomass power plant boiler manufactured by our company is high efficiency up to 90%, using a biomass boiler can help save 400 million tons of coal fuel for a thermal power plant.
Get An Instant Quotation
For all inquiries, please fill in the form below (* are required) to send us a brief message, and we will get back to you as soon as possible.