Horizontal Dual Fuel Boiler Manufacturer
2016-01-04 15:55:36
We offer high quality Dual Fuel Boilers which are manufactured from high grade raw material. The Dual Fuel Boilers of robust construction are horizontal three-pass wet-back design. The basic equipment of horizontal dual fuel boiler includes the boiler pressure vessel, the control and safety technology, the burner unit, a pump module, a terminal box and the control cabinet.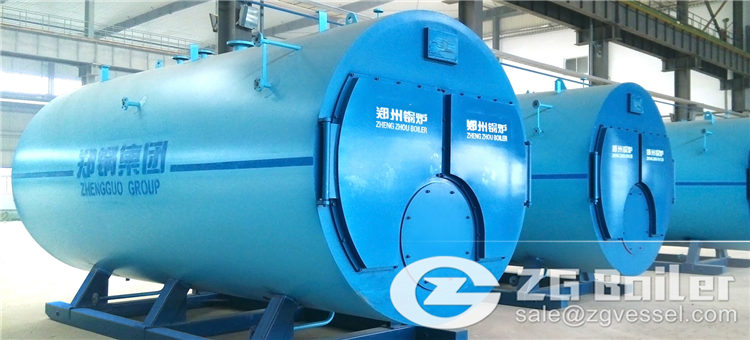 horizontal gas & oil boiler
Features:
Generally it adopts micro-positive pressure combustion, don't need to configure the induced draft fan.
Suitable for oil or high QDW gas(Qdw≥16000kJ/Nm3)
Simple structure, easy to manuafcture
Short installation period, low maintenance cost
The demand for boiler water quality is not high
Large water volume, large combustion chamber
Boiler capacity range is 1 ton to 20 ton per hour
Application area:
hospital, school, hotel, pharmaceutical industry, food & beverage, etc.
Common fuel and its Qdw:
| | |
| --- | --- |
| Natural Gas | Qdw =38000KJ/ Nm3 |
| Biogas | Qdw=22000KJ/Nm3 |
| Coke oven gas | Qdw=16000KJ/Nm3 /td> |
| Blast furnace gas | Qdw=3300KJ/Nm3 |
| Light oil | Qdw=42500KJ/kg |
| Residue oil | Qdw=41300KJ/Kg |
Gas & Oil dual fuel boiler manufacturer
WNS series boiler is a dual fuel boiler, which can burn gas and oil at the same time. Expect the fuel I mentioned above, dual fuel boiler can burn diesel oil, heavy oil, propane, methnone, city gas and some other fuels. We are a dual fuel boiler manufacturer and supplier in China, welcome to contact us and get dual fuel boiler price list. Sending E-mail to zbg@zzboiler.com or call 86-371-86062323!
Get An Instant Quotation
For all inquiries, please fill in the form below (* are required) to send us a brief message, and we will get back to you as soon as possible.