ZBG High Efficiency Low NOx Emission 75 Ton CFB Boiler
2016-07-15 15:05:39
In mid-March of 2016, ZBG 75 ton/hr circulating fluidized bed power plant boiler project in Inner Mongolia completed boiler energy efficiency test and environmental protection test. Recently the China Special Equipment Inspection and Research Institute has issued the two comprehensive reports.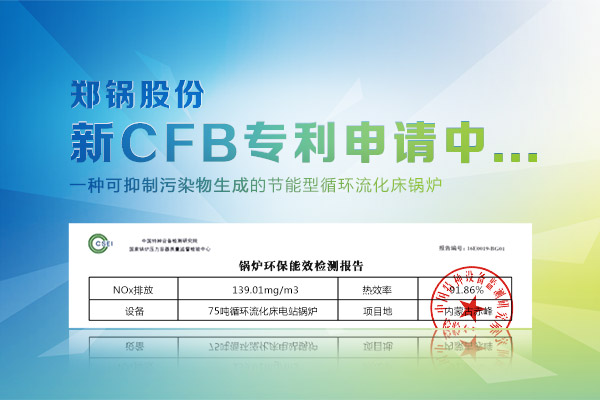 1.Thermal efficiency. As the environmental protection benefit, the thermal efficiency is also an important factor to measure the value of boiler. Shortly before ZBG's 116MW CFB boiler won the NO.1 with energy efficiency of 91.98% among high efficiency boiler list, now the 75 ton CFB boiler again leads the industry with thermal efficiency of 91.86%, which not only largely exceeds the limit value of 83% in "TSG_G0002-2010_ Boiler Energy Saving Technical Supervision and Management Regulations", also is nearly 3% higher than the designed value.
2.Excessive air coefficient. The environmental protection test report shows that the excessive air coefficient of ZBG 75 ton power plant boiler is only 1.28, much lower than the requirement "CFB boiler and boiler adopting membrane water wall should be less than 1.4 " in "TSG_G0002-2010_ Boiler Energy Saving Technical Supervision and Management Regulations". Excess air coefficient is one of the most important factors of low NOx combustion. The excess air coefficient of 1.28 indicates that the CFB boiler has a good sealing performance, and accordingly, the furnace temperature is easy to control, high combustion efficiency, less NOx generation and emissions.
3. Low NOx emission. A significant reduction in nitrogen oxide emissions has essential environment and social benefits in developing energy industry and realizing the NOx reduction and control targets. According to China's "GB13223-2011 Thermal Power Plant Air Pollution Emission Standards", NOx emission limit value is 200mg, while our 75 tons CFB power plant boiler can reach 139.01mg/m3 initial NOx emission, in case of no installing denitration equipment, which is far below the national limit in non-priority areas, lower than EU, Japan and other countries, and close to American emission standard of 135mg/m3.
The Inner Mongolia 75 ton circulating fluidized bed boiler runs well and realizes clean and effective utilize of coal fuel, which marks that CFB technology of ZBG is more mature. Now with the equal velocity, low temperature low oxygen staged combustion concept and design, ZBG is applying for product patent of "suppression of pollutants generated energy saving circulating fluidized bed boiler". Leading the industry with technology, ZBG will keep on innovating to provide our clients with better products.
Get An Instant Quotation
For all inquiries, please fill in the form below (* are required) to send us a brief message, and we will get back to you as soon as possible.