gas fired steam boiler in Bangladesh
2019-08-01 17:47:31
  ZBG has repeatedly exported gas boilers to Bangladesh's cement, chemical, paper, food and other industries. Bangladesh is a South Asian country with abundant natural gas resources. By 2018, the reserves of major energy natural gas have been announced to be 311.39 billion cubic meters. This is a major reason why gas fired steam boilers are very popular in the area. Heavy industry in Bangladesh is weak, and industrial boilers are mainly dependent on imports. Bangladeshi industry mainly produces raw materials and primary products, including cement, fertilizer, paper, etc. The agricultural products are economically developed. The agricultural products mainly include tea, rice, wheat, sugar cane, jute and its products, white sugar, cotton yarn and soybean oil. In these areas, the demand for various industrial boilers (the most applications of oil and gas boilers) is very large.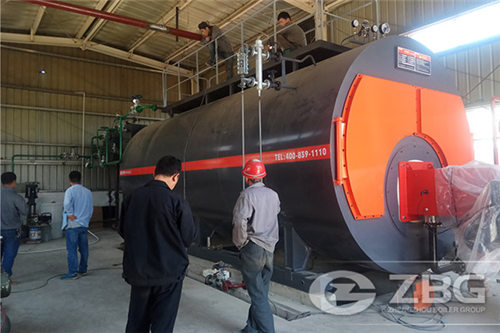 Types of gas fired steam boiler in Bangladesh
  The WNS type fully automatic gas steam boiler is a package horizontal internal combustion three-pass fire tube structure. The fire tube boiler is made so the products of combustion pass through tubes surrounded by water in a shell. The furnace volume is inside to the shell that contains the water. The upper steam capacity of WNS series fire tube boilers is 20 ton/hr, and the working pressure is limited by their large shells to about 1.6 MPa. SZS series oil gas water-tube boiler is one in which the products of combustion pass around the outside and heat tubes containing the water. The furnace and boiler tube areas are surrounded by a heavily insulated refractory wall to prevent heat transfer through the boiler walls. The boiler can burn natural gas, biogas, city gas, heavy oil, diesel oil, etc.
  ZBG gas fired steam boiler in Bangladesh related project
  3t gas steam boiler in Bangladesh tea factory
  15 ton natural gas steam boiler in Bangladesh paper factory
  25 oil gas boiler for cement factory
  5 tph wns series gas steam boiler in Bangladesh
  10 ton szs gas water tube boiler in Bangladesh food factory
  8 ton oil gas boiler in Bangladesh fertilizer factory
  Two set 6 ton wns series oil gas steam boile in food factory
  Two set gas steam boiles in Bangladesh textile factory