Biomass Power Plant Boiler Special Design
2015-11-02 13:27:47
ZBG designs and supplies turkey biomass CFB boiler for CHP and power plant. It can burn sawdust, rice husk, bagasse, coconut shell or co-firing with coal fuel. This paper will focus on introducing biomass power plant boiler special design.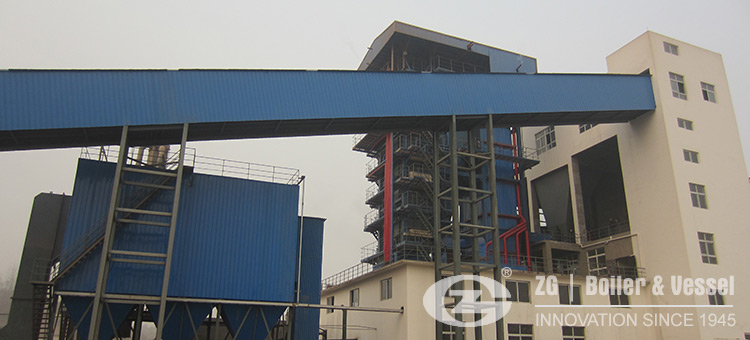 Biomass CFB boiler special design
Furnace and secondary air:
There are some obvious differences between biomass boiler and coal boiler in account of low-density, low heat valve, high volatile content and high moisture of the biomass fuel. So the biomass boiler must have the larger combustion space and enough height to make sure the fuel have the sufficient time to burn in the furnace, meanwhile the adequate and stratified secondary air is deployed to fit in with the concentrated combustion of volatile content, so that guarantees the fuel and air are fully mixed to burn out in the furnace.
Superheater:
Because part of the Cl in biomass fuel must be transformed into HCl and Cl2, avoiding superheater deposit or ash is an effective measure to reduce the extent of corrosion in superheater, which is caused by the interaction of alkali metal salt, Cl2 and HCl. This series of boilers use platen superheater as its high-temperature superheater to essentially avoid deposit or ash in superheater, eliminate one of the reasons that might cause the corrosion to the high-temperature superheater.
Layout of the heating surface and soot blower:
Because the strong agglutinating valve of the deposit or ash is remained after the combustion of the biomass fuel. For one thing, during the course of design, the heating surface should be reasonably laid out to maintain flue gas temperature of the inlet of high-temperature superheater within a lower level. For another, the tubes of high-temperature superheater adopt heating-resisting material, and soot blower should be reasonably laid out to prevent high-temperature superheater from deposit or ash.
Biomass CFB boiler manufacturer
We are an esteemed company that manufactures and supplies Biomass CFB Boilers that are highly acclaimed by the customers for their robust quality and long service life. Moreover, these are offered at very affordable prices which make them the first choice of the customers. Welcome to get the boiler quotation by leaving us your boiler requirement in zbg@zzboiler.com or chat with our online customer service!
Get An Instant Quotation
For all inquiries, please fill in the form below (* are required) to send us a brief message, and we will get back to you as soon as possible.