Anti-wear Measures for Circulating Fluidized Bed Boiler
2021-07-08 14:38:13
Circulating fluidized bed (CFB) boiler has a large amount of circulating materials in the combustion system, so the anti-wear of the combustion system and the heating surface of the tail is very important.
According to the amount of flue gas generated by combustion, the cross-sectional area of ​​the furnace is reasonably selected, and the flue gas speed is controlled within a reasonable range, which can significantly reduce the wear of the heating surface of the furnace. In the tail shaft convective flue, although the flue gas has a low ash content, as the flue gas temperature decreases, the hardness of the ash increases. Selecting an appropriate flue gas velocity is an important measure to prevent the convective heating surface from wearing.
The furnace air distribution board is poured with 67mm thick wear-resistant and heat-resistant concrete. The water wall pipes around the furnace fire zone area are welded with pins and 60mm thick (from the center line of the pipe) wear-resistant and fire-resistant plastics are laid. In the handover area, the water wall pipes are treated in a partial way. In addition, the welding seam of the flue gas side pipe is required to be ground, and the residual height of the welding seam is not more than 1mm.
On the surface of the water-cooled wall pipe surrounding the flue gas outlet on the upper back wall of the furnace, a 60mm thick wear-resistant refractory plastic is laid to prevent the pipe in this area from being worn when the flue gas flow direction changes.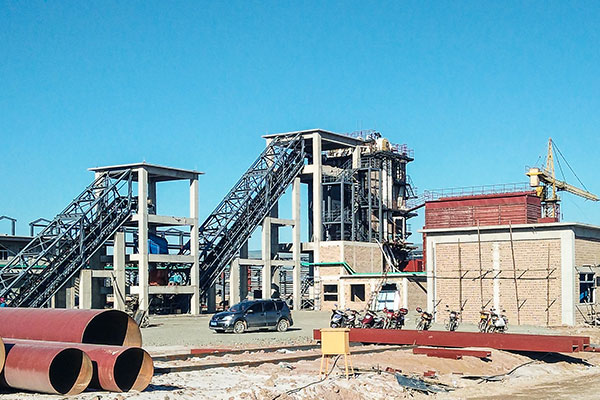 The inner wall of the inlet flue of the cyclone separator, the cyclone separator and the outlet flue of the cyclone separator are made of wear-resistant castables, fixed with high-density "Y"-shaped grab nails and pallets to ensure that the wear-resistant materials are firm and reliable. During the construction process, the surface of the wear-resistant layer is required to be flat and smooth. The central cylinder of the separator is made of 06Cr25Ni20 with high temperature, high strength and wear resistance.
In the return device and its connecting pipeline, a layer of high-temperature wear-resistant castable and a layer of refractory heat-preserving castable are laid on the inner surface of the flue that is in contact with high-temperature and high-concentration ash particles, which are fixed with "Y"-shaped grab nails.
The superheater and economizer in the tail convection flue are installed on the windward side of the first row of pipes at the flue gas inlet to prevent wear of the pipe; the air preheater part is on the windward side of the flue gas inlet pipe , Are equipped with anti-wear sleeves to prevent pipe wear.
Want more detailed information about circulating fluidized bed boilers? Welcome to consult online customer service, or directly call +86 177 1999 3430, ZBG Boiler Group will serve you wholeheartedly!