Advantages of Gas Fired Low-nitrogen Steam Boiler
2021-08-18 08:41:17
The gas-fired low-nitrogen steam boiler is upgraded on the basis of ordinary gas-fired boilers. Its advantage lies in the emission of nitrogen oxides. Generally speaking, only those with less than 30-80 mg are called low-nitrogen gas-fired steam boiler. Its main advantages are as follows: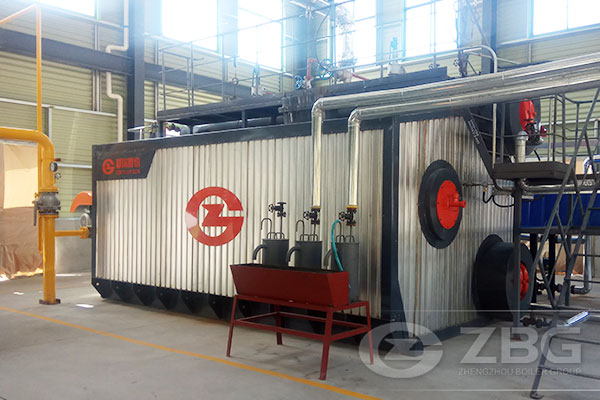 1. Integrated package delivery
Integrated high-efficiency air preheater, condensing heat exchanger, high-efficiency HYPERLINK ultra-low nitrogen emission split burner, equipped with universal high-end brand-name frequency converter. The boiler is fully assembled and delivered, and the installation is convenient. A variety of configuration requirements to meet the individual needs of different customers.
2. Intelligent expert control system
It adopts high-quality high-definition color touch screen, high-performance programmable PLC controller to monitor the operation of each component throughout the whole process, intelligent PID mode adjusts the air and gas volume, automatically adjusts the operating state, and accurately controls the output load. It can be free of personnel and is very convenient to operate. (From left to right, from top to bottom) Air preheater, low nitrogen split burner, high efficiency condenser
3. Ultra-high thermal efficiency
The two-stage series heat exchange mode is adopted, and the boiler is designed with a four-pass heat exchange process. The flue gas can efficiently recover the sensible heat and latent heat of the flue gas through the high-performance air preheater and condensing heat exchanger; high-performance inverter and split type. The precise control of the burner and the full-scale load-proportional output curve are fully adapted to the actual needs of customers, creating more energy savings. Ensure the efficient operation of the boiler (102%) and eliminate inefficiency.
4. Ultra-low nitrogen emissions
Low-nitrogen burner derived from patented technology research and development, using four-stage fully mixed combustion technology, NOx ≤ 30mg/m3, meeting the most stringent requirements of the environmental protection department.
Want to know more details about gas fired low-nitrogen steam boilers? Welcome to consult online customer service, or directly call +86 177 1999 3430, ZBG Boiler Group will serve you wholeheartedly!