Technical Specification of 10 Ton Capacity Steam Boiler
2022-08-15 08:40:29
Purpose: Fire tube, 3pass, wet back, horizontal steam boiler will be used for generation of saturated dry steam at 20 bar pressure.
Brand & Model of the Boiler: ZBG boiler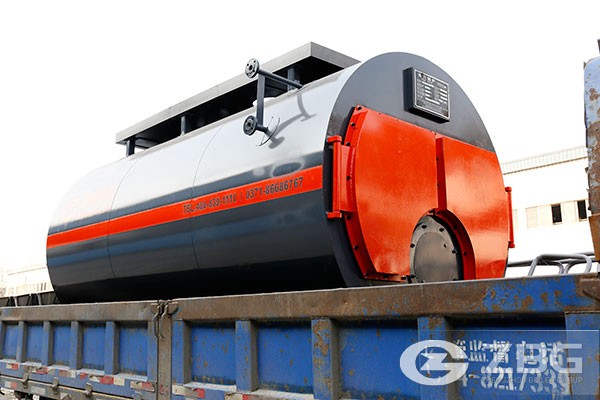 10 Ton Capacity Steam Boiler
Boiler Design data:
1.Type of boiler: 3 Pass, wet back, horizontal, fire tube boiler.
2.Steam Capacity: 10 ton/hr.
3.Working (steam output) Pressure: 20 bar.
4.Design Pressure: 24 bar.
5.Saturation steam temp 2200c (according to relative chart)
6.Fuel type: Dual (Natural gas + Diesel)
7.Boiler efficiency: min 90% without economizer
8.Feed water temperature : 900 c
9.Inlet gas pressure : 2 – 20 psi
10.Calorific value of natural gas : 9.3kw/nm3
11.Burner turn down ratio: 1:4 with Fully automatic control.
12.Boiler construction: ASME/ CE code (certificate must be submitted with the tender)
13.Boiler registration: from chief inspector of boiler, Bangladesh.
14.Boiler base construction: Heavy steel structure.
15.Total heating surface area: (to be mentioned).
16.Country of origin: (to be mentioned)
17.Test pressure to be mentioned:
Boiler Mountings:
Boiler should be manufactured and assembled with following mountings:
1.Single port double lift type safety valves 2 nos.
2.Main steam stop valve 1 no.
3.Feed check stop valve 2 nos.
4.Feed NRVs (Disc check valve) 2 nos.
5.Blow down valve 2 no.
6.Auxiliary vent valve 1 no.
7.Water level gauge 2 nos.
8.Sight glass (Transparent type) 2 nos.
9.Non return valve for sight glass 2 nos.
10.Water level controllers low and low-low 1 set. Erab Ent/LPH/C
11.Water level controllers drain 1 no.
12.Isolation valves for water controllers 2 nos.
13.Pressure gauge, Main boiler 1 no.
14.High steam pressure cut-off 2 no.
15.Feed water pump 2 nos.
16.Digital Pressure transmitter & controller, 1 set.
Boiler Accessories:
Boiler should have necessary accessories / devices for smooth and economical operation of Boiler
1.Sample collection system of Blow down water.
2.Steam non-return valve at feed water line. -01 no.
3.Pressure gauge manifold isolating valve. -01 no.
Boiler Feed Water (BFW) pump with drive motor and coupling (2 Sets):
Make: (to be mentioned)
Model: (to be mentioned)
1.Multistage vertical centrifugal feed pump.
2.Flow range : cin 12.5 m3/hr at 20 bar pressure head
3.Delivery head : min 240 m
4.Power input : (to be mentioned)
5.Motor: 3 phase, induction motor 400 V + 20, 50 Hz.
6.Necessary open/close valve
Burner:
Burner Type : Duel Fuel burner, Weishaupt
Modulation: Full automatic burner (step less) controlled by steam pressure transmitter, pressure
Controller and servo drive.
Make: Weishaupt
Model: (to be mentioned)
Regulation: Electronic compound regulation
Turndown ratio: 1:4
1.Burner with integrated combustion air blower : Force draft burner
2.Fuel : Natural gas, Diesel
3.Gas flow pressure : should be as per boiler design
4.Calorific value of natural gas : 9.3 Kw/nm3
5.Regulation : Full modulating
6.Burner installed electric power : (to be mentioned)
Equipment for gas burner (Weishaupt)
1.Flame controller and control accessories
2.Ignition device : Electrical/ Electronic
3.Switch device
4.Burner flame tube
5.Combustion air blower.
6.Ignition sensor
Gas train includes:
1.Ball valve -01 no.
2.Gas filter -01 no.
3.Pressure regulator -01 set.
4.Safety relief valves -01 no.
5.Pressure gauges - 02 nos.
6.Siam-shut off valves -01 no.
7.Gas solenoid valve -02 nos.
8.Gas solenoid valve for pilot ignition -01 no.
9.Gas proving system.
10.Air pressure switch -01 no.
11.Gas pressure switch, high & low -12 nos.
Diesel firing system:
Completely air atomizer diesel oil burner with oil filter, Oil nozzle, Oil pump, Air compressor, solenoids
etc.
Water Softener:
Twin type, Auto alternating operation.
Make: (to be mentioned).
Model: (to be mentioned).
Capacity: 20 m3/ hr.
Resin load: (to be mentioned).
Tank: Twin alternating tank.
Regeneration: Automatic regeneration
N.B: Water test report enclosed herewith.
(Softener should be designed as per water test report)
LP Dosing System:
Chemical dosing system includes
Piston pumps -2 sets.
HDPE tan -50 liter - 1 no.
Hose for dosing -1 set.
Auto/manual Surface Blow Down:
Complete auto/manual surface blow down system with valves, skimmer tube & control.
Make: (to be mentioned).
Model: (to be mentioned).
Boiler plate & Tube Material:
Boiler Construction Details:
Boiler Tube plate: (to be mentioned).
Boiler tube: (to be mentioned).
Shell: (to be mentioned)
Furnace drum: Corrugated
Tube thickness: min. 4 mm (seamless)
Type of welding – Electric Arc Welding.
Insulation & Type of Welding:
1.Type of Insulation -Mineral Wool.
2.Insulation Thickness - 100 mm (min)
3.Skin temperature – Amb +200C
4.Cladding Material – Aluminum
5.Cladding Thickness – 24 SWG.(.954)
Feed water tank:
A required size feed water tank should be delivered with the boiler. It should contain-
1.Water level gauge with stop valves.
2.Water inlet system with level controller.
3.Water Drain valve.
4.Tank water test kit and test facility.
5.Temp. gauge (0- 150 0 C)
6.Automatic steam injection system to maintain feed water temp.
7.Pressurized Deaerator setting system.
Pressurized Dearator
Pressurized deaerator should be set on the feed water tank.
Deaerating Capacity - 10 m3/hr
Water hold-up -20 minutes
Type- spray cum tray type
Feed water temperature – 950c
Pressurized Deaerator includes:
Level control system -1
Temperature control system -3
Top Platform and ladder
The boiler should be mounted with a ladder & a platform with safety grill at the top of the boiler facilitating maintenance work.
Boiler Control Panel
1.Full automatic sequence operation system.
2.Required Electrical control & safety equipments
3.Required other instruments
4.Phase & Voltage detection device.
5.Ammeter - 1 set. , Volt meter - 1 set
Condensate returns system:
Condensate recovery system having capacity of 60% return of boiler capacity. Brand and Model of the offered system should be mentioned and catalogue must be
Enclosed. It includes-
1.Insulation Jacket
2.Temperature gauge
3.Pressure gauge
4.Skid with receiver & other piping accessories
Instruments: For boiler Efficiency Monitoring system Includes:
1.Steam blow meter: Vortex type with pressure & density compensation - 1 set
2.Auto Blow down: TDS based automatic blow down control system. – 1 set
3.Portable flu gas analyzer - 1 set
Installation & Commissioning
Installation & commissioning of the boiler & its equipments should be done by the suppliers expert. Training of the operators & Engineers about the operation & trouble shooting should also be done by the same expert.
Spare Parts:
1.Shaft seal for feed pumps – 12 nos
2.Ignition Transformer -01 no
3.Pressure regulator with sensor -01 no.
4.Ignition electrode -04 nos.
5.Flame sensor – 03 nos.
6.Blow down valves – 02 nos.
7.Water softener kit – 01 no.
8.Manhole Gasket – 06 nos.
9.Mud hole gasket – 06 nos.
10.10'' boiler pressure gauge, 0-25 kg/cm2- 02 nos.
11.4''feed water pressure gauge, 0-50 kg/cm2- 02 nos.
12.Inspection test gauge cock.- 01 no.
13.Toughened glass for flame observation.- 01 no.
14.Gauge glass – 04 no.
15.Pressure transducer – 01 no.
16.Boiler sequential controller. -01 no.
17.Gas, Air modulation cam – 02 nos.