Solid Fuel Boiler Manufacturer
2016-06-23 09:19:19
Over seventy years of experience in designing, engineering and manufacturing solid fuel fired boilers, ZBG's Solid Fuel Fired Boilers are specifically designed to utilize a wide range of standard and alternative fuels for Solid Fuel, Coal Fuel and Biomass Fuel Boiler solutions. Over the years, more than 100,000 installations worldwide has made ZBG the industry's most popular solid fuel fired boiler manufacturer and supplier.
Solid Fuel Boiler Fuels: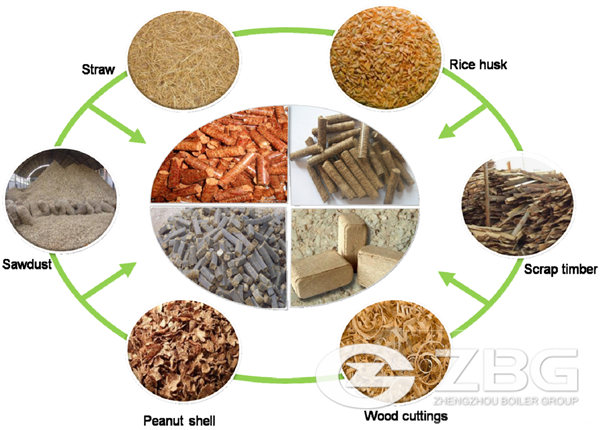 The fuel that a solid fuel boiler runs on is referred to as solid fuel. Most solid fuels are various types of solid material that are used as fuel to produce energy and provide heating. Solid fuel has many forms:
Coal fuel Agricultural Biomass Agave Fiber Bark Chipped Mill Waste
Chicken Manure Coal Construction Debris Hulls Hog Fuel
King Grass MSW Paper Planer Shavings Rice Husk
Rubber Sander Dust Sawdust Shavings Sludge Sugar Cane Bagasse
Solid Fuel Boiler Types:
ZBG is a trusted solid fuel supplier, offering various types of steam boilers, hot water boilers and power plant boilers. For example, the packaged type water-fire tube solid fired boiler, bi-drum water tube solid fuel boiler, CFB type solid fuel boiler, corner tube biomass and coal fired boiler. According to your specific industry requirement, ZBG's engineers will work together with you, recommend and design the tailored solid fuel boiler solutions.
Solid Fuel Boiler Auxiliaries:
In spite of boiler body, its auxiliary components are also very essential. The quality of solid fuel auxiliaries can affect its efficiency, so the deciding of boiler components are important. ZBG can equip your boiler with the right auxiliaries.
Deaerator (Make-Up Water Systems) Coal Bunker Storage Fuel Conveyors
Forced Draft Fans & Air Systems Ash Handling Conveyors
Induced Draft Fans & Air Systems Hurst Brand Refractories Automated Control Systems
Fuel Metering Systems Ash Reinjection Systems
Exhaust Breeching & Stacks Emissions Control & Monitoring
Fire Doors & Grates Soot Blower Systems
Solid fuel boiler manufacturer
ZBG provides customers with 2 - 400 ton/hr good quality solid fuel boilers, such as biomass boilers, coal fired boilers, rice husk boilers, bagasse boilers, coconut shell boilers, palm kernel shell boilers, etc. All the products are with good performance, can be designed and manufactured as ASME. Welcome to consult and get the solid fuel fired boiler price!