Gas Consumption of 10 Ton Gas Boiler Per Day
2018-01-26 11:00:03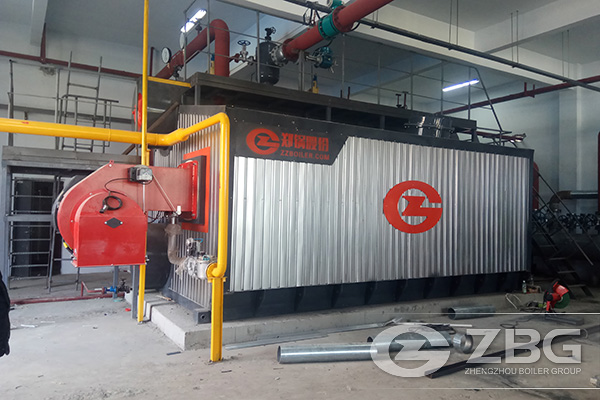 The output steam of 10 tons natural gas boiler per hour is 10 tons, which is the capacity of the boiler. If we want to calculate the amount of fuel gas consumed in a 10 ton natural gas boiler per day, that is to calculate the consumption of gas in the natural gas boiler. We need to know the heating surface of the natural gas boiler, calorific value and the boiler efficiency. According to these conditions we can determine the heat loss of the gas boiler, then we can know thermal efficiency, finally, to calculate the total gas consumption.
The calculation formula of gas consumption per hour for a 10 ton natural gas fired boiler is: gas consumption of gas boiler (hourly) = gas boiler power * time / fuel calorific value / gas boiler heating value utilization ratio. The calorific value of fuel is calculated by 35.53MJ/Nm3. If the gas consumption of a 10 ton boiler is =7MW*3600s/35.53MJ/Nm3/90%=788m3/h per hour, if it is operated for 8 hours according to 1 days, then the 10T gas boiler will consume 6304 cubic meters of natural gas per day.
ZBG's low nitrogen gas fired boiler has a very wide range of applications. 10 tons gas fired steam boiler can be used for industrial production, and 10 tons gas fired hot water boilers can be used for large area heating. The heating area can reach 10 thousand square meters (excluding heat loss). ZBG low nitrogen gas boiler adopts internationally renowned brand burner (BALTUR, WEISHAUPT, RIELLO, etc.).
If you want to know more about gas consumption of 10 ton gas boiler per day, please consult ZBG online customer service!
Get An Instant Quotation
For all inquiries, please fill in the form below (* are required) to send us a brief message, and we will get back to you as soon as possible.