Burning of 4000kg Wood Boiler
2016-09-28 16:23:30
ZBG specializes in the design, engineering and manufacturing of wood fired steam and hot water boiler system. For the boiler capacity below 30 ton/hr, we have DZL series and SZL series. In general, the DZL series boiler ranges from 2 ton to 10 ton, while SZL series boiler ranges from 6 ton to 30 ton. So customer can consider the wood boiler DZl series when he is looking for a 4000kg/hr or 4 ton/hr steam boiler.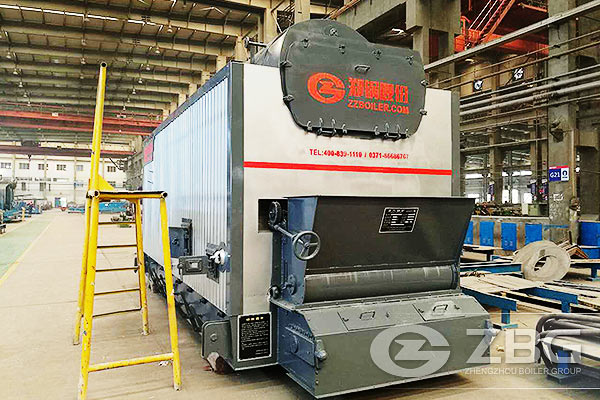 burning of 4000kg wood boiler, package water-fire tube boiler
Package wood biomass fired boiler advantages:
1.Some of the rising tubes on two sides of steam header go up to the furnace, then go to down side of drum, together with the mason work insulation heating surface there, all these form the top heating surface. By adopting of this novel furnace structure, we tackle the deficiency of "bulge" which is happen because of direct heating the down side of the drum.
2.By adopting of double wings gas ducts, the fuel gas can go into the front gas tank easily, so the temperature of different front plates can be same. In this way, it can avoid the crackles happening in the plates.
3.Spiral tubes are installed in the drums, which can strengthen the heating transferring efficiency, at the same time, spiral tubes have the ability of dust removal, which can avoid the dust stratification in the tubes.
4.Both of the front and the back arches of the 10t/h series boilers adopt mason work of water cool tubes wall structure, which can form permanent arches.
5.DZL Series Packaged Traveling Grate Boiler structures of the arches adopt the latest research product, second prize of advance awarded by Xi'an Jiaotong University. The back arch is low and long and the part near the exit is inverse inclined type, while the front arch is 45°inclined type, they together form a downside "a" flame structure, which makes fuel combustion fully and reaches a high combustion efficiency.
Get An Instant Quotation
For all inquiries, please fill in the form below (* are required) to send us a brief message, and we will get back to you as soon as possible.