How to Curing Green Tire with Steam Boiler
2016-12-27 10:43:17
Tire production needs rubber and other material. Steam curing tire function as tire shaping, stimulating chemical reaction. "Green Tire" technology is to replace the original tire tread filler material carbon black with silica partially or completely to decrease the friction coefficient and reduce tire rolling resistance and vehicle exhaust to protect the environment. This passage will explain tire curing process via steam boiler and other equipment.
Before Tire Curing
Put tire into rubber bladder mold
In this process, the green tire is automatically transferred onto the lower mold bead seat, a rubber bladder is inserted into the green tire, and the mold closes while the bladder inflates.
Closed the mold and locked the bladder
As the mold closes and is locked the bladder pressure increases so as to make the green tire flow into the mold, taking on the tread pattern and sidewall lettering engraved into the mold.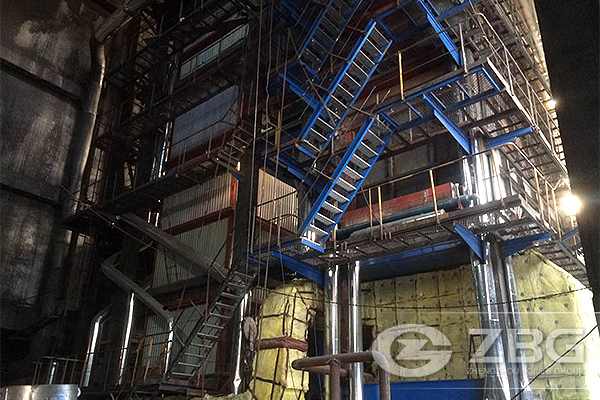 60 ton Circulating Fluidized Bed Steam Boiler in Tire Factory
During Tire Curing
The bladder is filled with a recirculating heat transfer medium, such as steam, hot water, or inert gas. Temperatures are in the area of 350 degrees Fahrenheit with pressures around 350 PSI. Passenger tires cure in approximately 16 minutes.
After Tire Curing
At the end of cure the pressure is bled down, the mold opened, and the tire stripped out of the mold. The tire may be placed on a PCI, or post-cure inflator, that will hold the tire fully inflated while it cools.
Tire steam curing is the process of applying pressure to the green tire in a mold in order to give it its final shape, and applying heat energy to stimulate the chemical reaction between the rubber and other materials. Industrial boilers generate steam to support tire curing, shaping, and chemical reaction. Most tire factory clients will choose circulating fluided bed boiler for production and heating. If you are interested in our steam boiler, please contact with our consumer service online.
Get An Instant Quotation
For all inquiries, please fill in the form below (* are required) to send us a brief message, and we will get back to you as soon as possible.