CFB Boiler Solid Fuel Burning Process
2017-02-05 09:30:52
To most people, circulating fluidized bed boiler is too complicated to understand. Combustion condition determines thermal efficiency in a cfb boiler. ZBG manufactured cfb hot water boiler may serve in best thermal efficiency condition.
The primary combustion air enters the furnace of CFB boiler through an air distributor or grate located at the furnace floor, while the secondary air is injected at some height above the grate to complete the combustion. Bed solids are well mixed throughout the height of the furnace. Thus, the bed temperature is nearly uniform in the range of 800 to 900℃, although heat is extracted along its height.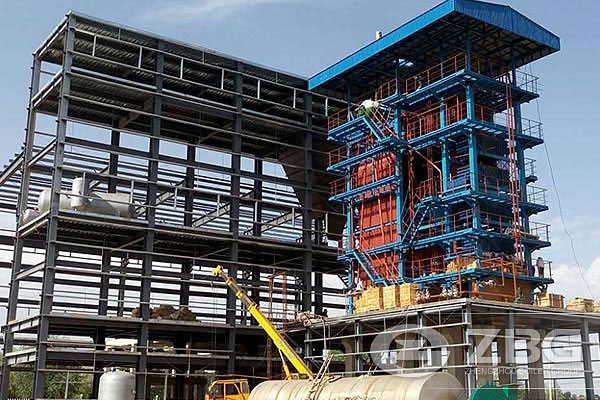 These components form a solid-circulating loop in which fuel is burned. The furnace enclosure of a CFB boiler is generally made of water tubes, which absorb a part of the generated heat. Additional, but less crucial components attached to a CFB boiler are the bed drain and solid classifier. The lower part of the furnace is smaller and is often tapered in cross section. This helps maintain good fluidization, even with size-segregated particles. Walls of the lower section, which also serve as a thermal storage, are lined with refractory up to the level of secondary air entry. Above this level the furnace is uniform in cross section. The gas–solid separator (Cyclone) and the nonmechanical (Loop-seal) valve for solid recycle are located outside the furnace. These are also lined with refractory. In some designs part of the hot solids recycling between the cyclone and the furnace are diverted through an external heat exchanger, which absorbs an additional fraction of the combustion heat.
For further information about our industrial circulating fluidized bed boiler, please contact with consumer service online.
Get An Instant Quotation
For all inquiries, please fill in the form below (* are required) to send us a brief message, and we will get back to you as soon as possible.