8 TPH BF Gas or HSD Steam Boiler for Steel Plant
2021-09-25 10:15:04
Greetings for the day. We, Rashmi Metaliks Ltd., is reputed and one of the leading steel manufacturer in India. We have two Blast Furnace having capacities of 350 anf 245m3 for whcih we need package boiler for steam injection purpose. The specifications of package boiler is as follows.
Capacity : 8 TPH
Pressure : 0.6 Mpa
Burner: Dual fuel type
Fuel: BF gas or HSD(High speed Diesel)
Chemical composition of BF Gas ( Blast Furnace Gas) :
CO(Carbon Monoxide): (22-25)%
CO2(Carbon Dioxide) : (16-20)%
H2 (Hydrogen) : (4-5)%
N2 (Nitrogen) : (51-55)%
O2( Oxygen) : (0.2-0.5)%
Calorific Value: 700- 850 Kcal/Nm3
Heating value : 0.9 Kwh/ Nm3
Please do submit the quotation for PACKAGE BOILER as per above specifications. Should you need any clarification in this regard, please feel free to contact us.
"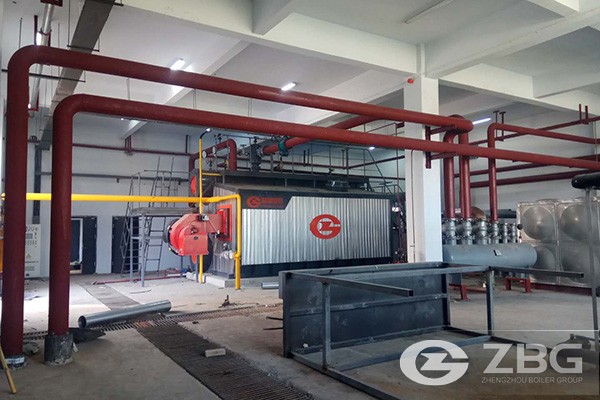 Rated steam capacity: 8 ton per hour
Working pressure: 1.25 MPa
Rated steam temperature: 194 ℃
Output: Steam
Type: forced circulation
Structure: Fire Tube
Style: Horizontal
Fuel: natural gas, heavy oil, diesel, lpg, etc.
Weight: 13 ton
Thermal efficiency: 96.8%
Application: Steel Plant, food factory etc.
Mode:WNS8-1.25-Y/Q
Capacity:8 tons
Application:Steam supply
In September 8, 2017, 8 tons oil and gas fired boilers exported to Russia was shipped to Qingdao port. This project lines in St Petersburg and boiler with natural gas and diesel as fuel. In addition, based on the strict European boiler emission standard, ZBG has equipped imported Italy imported burners for customers.
Get An Instant Quotation
For all inquiries, please fill in the form below (* are required) to send us a brief message, and we will get back to you as soon as possible.