10 T/H Oil Steam Boiler With Max Working Pressure 27 Bar, Design Pressure 31 Bar
2021-09-22 08:53:58
"Dear Sir or Madam
Now, our company want to purchase a new steam boiler. Specification is capacity 10T/h, max. working pressure 27 bar, design pressure 31 bar and using bunker oil as a fuel.
Because it is urgent, if you have boiler that is suitable for our spect please sending price qoutation to us as soon as possible (today is good).
Sorry for our urgent requirement.
Looking forward to your early reply.
Best Regards"
10 T/H Oil Steam Boiler With Max Working Pressure 27 Bar, Design Pressure 31 Bar.ZBG boiler can be produced, our largest oil-fired boiler can be 130 tons, the maximum pressure is 100bar.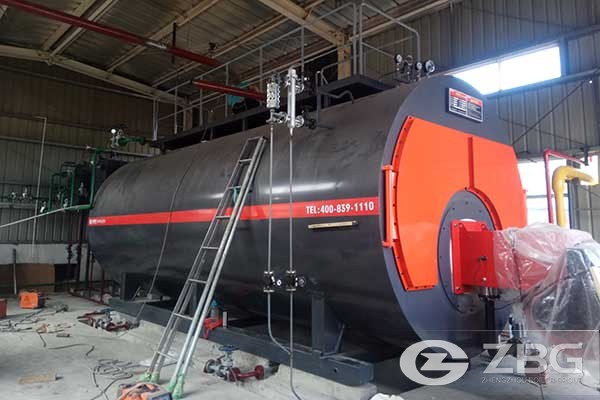 The 10 ton oil-fired steam boilers produced by Zheng Boiler are classified into WNS-type oil-fired boilers and SZS oil-fired boilers. The specific models are WNS10-1.0-Y, WNS10-1.25-Y, WNS10-1.6-Y, SZS10-1.25-Y, SZS10-1.6-Y, SZS10-2.5-Y and so on. WNS oil-fired boiler has a capacity of 1-20 tons, which is a relatively hot furnace type; SZS oil-fired boiler has a capacity of 4 to 90 tons, which is a furnace type with relatively high steam quality and high technical requirements.
The thermal efficiency of a 10-ton oil-fired boiler is 7MW, and its combustion heat value is 42.42Mj/kg. The general efficiency of Zhengzhou boiler oil-fired boilers can reach 90%. Then the following editor will take a 1-ton diesel boiler as an example to calculate, a 10-ton diesel boiler The fuel consumption=3600s*7MW/42.42Mj/kg/90%=6600kg, of course this is a theoretical calculation, plus if the oil heating value is different, the boiler thermal efficiency is different, the calculated fuel consumption will be different floating.
Get An Instant Quotation
For all inquiries, please fill in the form below (* are required) to send us a brief message, and we will get back to you as soon as possible.