36 Tons Biomas Boilers Suitable to Generate Power for Industrial Warehouses and Factories
2022-07-04 08:29:36
The most popular biomass energy source is wood, in the form of logs, pellets or wood chips. The boilers that use wood as a source are called wood pellet boilers. Burning biomass releases heat which can then be utilised to heat homes, generate electricity or to power vehicles.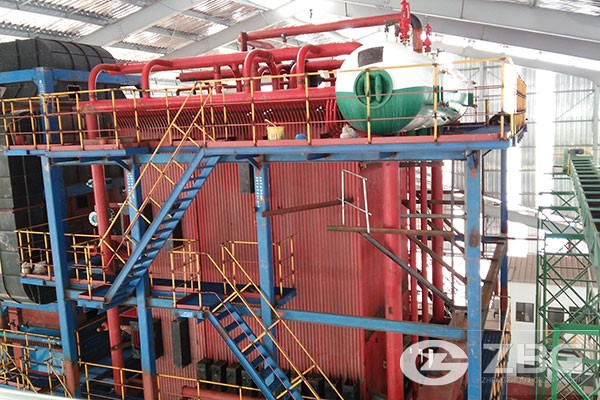 36-tons-biomas-boilers
36 tons of biomass power boiler
Furnace type: ZG-36/5.3-T
Capacity: 36t/h
Steam temperature: 485 degrees
Working pressure: 5.3MPa
Thermal efficiency: 85—92%
Applicable fuels: direct combustion of agricultural and forestry wastes such as rice husks, straw, wood chips, etc., forming biomass
Application range: large-scale central heating, thermal power plant power generation
ZBG boiler manufacturer Biomass power plant boiler is to directly or process the agricultural and forestry straw waste in rural areas into biomass pellet fuel power station boilers for use, which has the dual unity of social and economic benefits, and the use of biomass power generation enjoys the national preferential subsidy policy.
Whether it is a biogas boiler or a biomass straw boiler, users must decide according to their actual conditions and adapt to local conditions, and cannot blindly imitate which fuel other users use successfully. ZBG boiler manufacturer has a professional team for customers to invest and build factories, and can provide users with free guidance on boiler model selection, so as to relieve users' worries.
Advantages of Biomass Boilers
You may already know that biomass is considered an environmentally friendly source of energy. That is because unlike coal, which needs much longer than a lifetime to re-generate, biomass is considered a renewable source of energy because it can be obtained relatively quickly by replacing or growing new plants or trees.
Biomass is also considered a carbon-neutral form of energy because the same amount of carbon dioxide that is released by the burning process is later re-absorbed by growing plants. Not only it supplies us with energy, but it also helps with the disposal of wood and other materials' waste.
Replacing a coal or electric heating system with a biomass boiler can help you reduce your carbon dioxide output by up to 9.5 tons, annually.
Biomass energy is a great way to dispose of waste wood. That means the system is even more sustainable if you burn your own wood instead of having it delivered.
Prices of traditional fuels like oil and gas are steadily increasing, and this tendency is not expected to change anytime soon. Biomass needed for pellet boilers, for example, has much more stable prices, so you won't see your bills increasing sharply. Moreover, prices for biomass are close to gas prices but much cheaper than electric heating and solid fuel, so a biomass boiler is an ideal replacement for those kinds of systems.
Biomass boilers and stoves qualify for the Renewable Heat Incentive scheme (RHI), which means you would qualify for periodical payments over several years. This helps repay your initial investment in a shorter time.
Disadvantages of Biomass Boilers
Biomass boilers need more space than gas or oil boilers because the system is larger. You would also need some space to store the fuel itself, such as a hopper or wood store.
One of the largest disadvantages of biomass boilers is that the initial investment, including purchasing the boiler and installing it, is higher compared to traditional gas or oil boilers. Biomass boiler prices range between £4,000 - £8,000. However, the Renewable Heat Incentive helps cover these initial costs, and in the long run, you'd be saving money by using a cheaper source of energy.
It is essential for biomass fuel to remain dry, or it won't burn efficiently. For this reason, the storage conditions must be considered thoroughly.
Biomass needs a bit more work than traditional gas and oil boilers because you will have to continuously supply the system with pellets or chips unless you use a hopper.
Biomass boilers need to be cleaned regularly, around once a week. However, modern models make the process very simple or even incorporate the feature automatically, so you won't have to worry about it at all.
You should find a supplier of fuel as close to you as possible to reduce the carbon footprint and the cost of the delivery. Checking for availability of suppliers before purchasing a biomass boiler would definitely be a smart move since not all locations are well served by delivery services.
Get An Instant Quotation
For all inquiries, please fill in the form below (* are required) to send us a brief message, and we will get back to you as soon as possible.