3 T/hr Natural Gas Fire Tube Boiler With Super Performance Low Cost
2022-05-11 08:35:45
ZBG 3 Ton Per Hour Fire Tube Boiler Parameters
Type: Fire Tube boiler
Type of fire tubes: X – ID with helical internal ribs
Capacity: 3 Ton per Hour
W. Pressure: 150 P.S.I
Energy Source: Natural Gas
Power Requirement: 220-440 Volts A.C
Installation / Commissioning:- Complete Installation / Commissioning of boiler is required.
Accessories:- All required accessories should install with boiler.
Auxiliary:- For energy saving and to increase the efficiency of boiler, built in economizer is required.
Tool Kit:- All servicing and maintenance tools which include Assembly & Dis Assembly Tools for boiler parts, tube cleaning Motor with flexible shaft and chemical dozing pump.
Safety Equipment:- All safety equipment which include steam safety valve, fire explosion door, Low water cut-off control, pressure troll and safety alarm should install.
R.O Plant:- Capacity – 6000 Gallon per day with complete accessories and required chemicals for operation.
Storage Tanks:- Qty 03 boiler feed Water storage tanks of 5000 Gallon capacity each are required.
Stack (Chimney):- Build up of stack (Chimney) is required (height of stack = 25 Feet).
Publications:- Complete set of documents which include operational guide, servicing/maintenance manuals, parts catalogue, electrical and mechanical drawings and recommended chemical list for anti scaling & descaling of boiler during inspection/maintenance are required.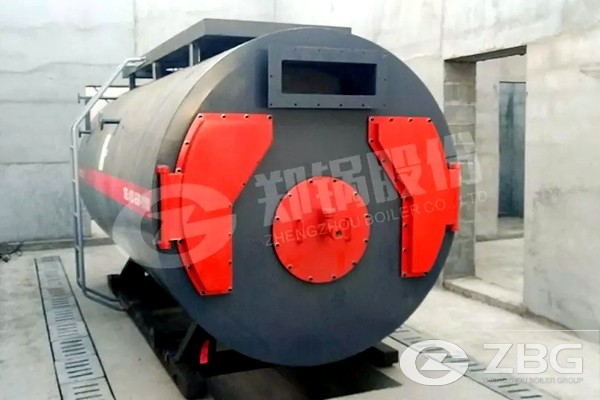 3 Ton Per Hour Gas Fired Boiler Exported to Indonesia
Mode:WNS3-1.0-Q
Capacity:3 3 Ton Per Hour
Application:Seafood processing plant
Application background: According to the introduction of manager Kong from the ministry of foreign trade of ZBG, the Indonesia customer is a large enterprise focusing on the seafood products processing, after a long period of operation, the original boiler can't meet the needs of production,through many visits and a comprehensive understanding, finally they signed the purchase contract with ZG on July 18, ordered WNS3-1.0 - Q boiler as the heating equipment.
Product introduction: WNS3-1.0-Q is 3 ton WNS gas boiler,the boiler burns natural gas as fuel,which greatly reduces the polluting gas emissions, at the same time,the boiler adopts the international popular three return structure, advanced waveform furnace structure, threaded pipe structure, wet back structure,has multiple security protection functions, making the WNS fire tube gas boiler a well-deserved energy conservation and environmental protection product, and this type of boiler has many other advantages such as convenient operation, easy installation, high output, strong load adaptability, etc. Meanwhile, in order to improve the automation level of WNS3-1.0-Q boiler, the boiler adopts the joint control of electromechanical integration control equipment and programmable logic controller (PLC). The control system operates through the touch-screen, the automation degree and operational reliability is greatly improved, the operating is more simple and intuitive.
The fire tube boilers produced by ZBG Boiler Factory include oil-fired gas boilers, coal-fired boilers, biomass boilers, etc. If you are interested in our fire tube boilers, please consult us!
Get An Instant Quotation
For all inquiries, please fill in the form below (* are required) to send us a brief message, and we will get back to you as soon as possible.