20t/h Bi-drum Water Tube Coal Fired Boiler Price
2016-08-16 16:52:18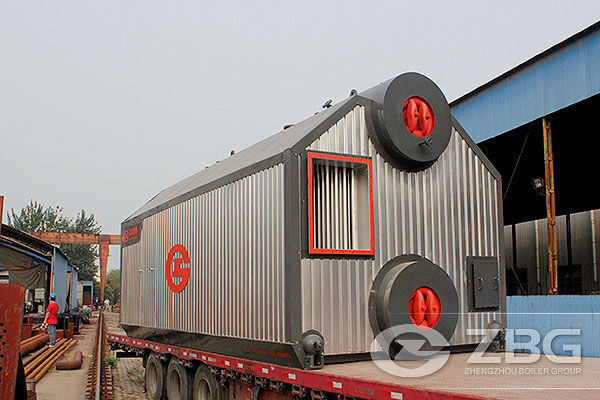 Purchasing a new boiler is like buying a car, performance, price or service should be considered twice before making your decision. Want to know the 20 ton per hour water tube coal boiler price, please contact zbg@zzboiler.com for the price!
20 t/h Horizontal Biomass Boiler structure
20 t/h Biomass Boiler the two sides of whose furnace adopts membrane water-cooled wall structure. The tubes of water-cooled wall go down to the up side of the furnace which forms the front and rear arches so that the seal structure and intensity of back arch are enhanced and the cubic of the furnace and heating surface are enlarged. There are end combustion chamber and convection tube tank in the back of the furnace with fixing an economizer in the rear. After through the furnace, end combustion chamber, convection tube tank and economizer, the flue gas came into the flue duct in the rear, and then went by dust precipitator, induced draft fan &chimney, and was discharged into the air in the end. There is secondary air laying out in the front wall, which is controlled by valves and could be put into service to enhance the combustion and increase the combustion efficiency when using biomass fuel as boiler fuel. The height of feeding inlet is higher than usual to satisfy the need for biomass fuel.
1. Membrane water-cooling wall structure and Inverted "α" arch furnace technology with a high heat transmission coefficient, low heat loss, good airtightness, no distortion for furnace wall and no ash leakage.
2. Longer front and back shaft than the other domestic ones, which prolongs the time of fuel combustion, lower the carbon content in the furnace slag, strengthen overload ability.
3. Furnace front and rear water wall tube extend down to the upper portion of the grate and form the front and back arch, which extends the span of arch.
4. Six independent air chambers can respectively adjust the air volume so as to achieve the best combustion effect.
Get An Instant Quotation
For all inquiries, please fill in the form below (* are required) to send us a brief message, and we will get back to you as soon as possible.