2 Sets of 8 Ton Natural Gas Fire Tube Boiler Transportation Up to Tripoli Port
2021-10-20 08:35:26
Recently, a user has inquired about two oil & gas fire tube boilers with the following specifications:
Qty : 2 sets
Fired tube boiler
Capacity : 8 Tons.
Pressure : 15 Kg/ cm2
Fuel : Natural Gaz.
Price should includes :
- Transportation up to Tripoli Port.
- Training
- Commissioning.
1. INTRODUCTION
Design, supply, install, training, commissioning and start-up of two identical complete firetube steam boilers with (associated equipment). Natural gas / F.O firing burners, theboiler shall be design to achieve reliable and highly efficient operational performancebeing strongly and simply built to comply with our technical requirements, the boilersshall be appropriate to employment in out-door.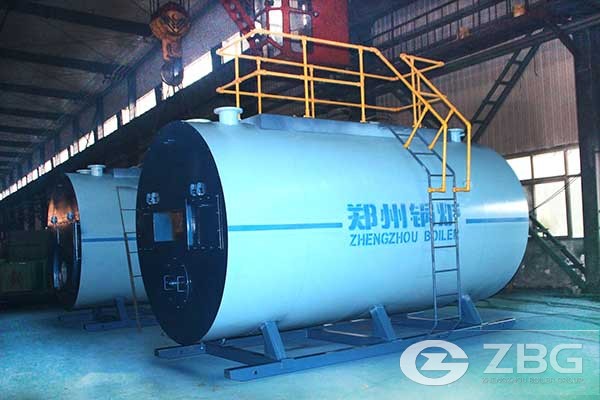 2 sets Fired tube boiler Capacity : 8 Tons. Pressure : 15 Kg/ cm2 Fuel : Natural Gaz.
2. ENVIRONMENTAL PARAMETERS :
The bidder shall take into consideration of the data given below during the finaldesign:
| | | |
| --- | --- | --- |
| 1 | Mean maximum sun temperature (black bulb) | 70°C |
| 2 | Mean maximum Ambient temperature | 40°C |
| 3 | Mean minimum Ambient temperature | 4°C |
| 4 | Mean maximum relative humidity | 72% |
| 5 | Mean minimum relative humidity | 53% |
| 6 | Basic Wind Speed (m/s) | 3 to 10 |
| 7 | Mean sea water temperature | 20°C |
3. SCOPE OF SUPPLY
Supply of complete package of two identical fire tube boilers skid mountedfully automatic, medium pressure approximately 15 kg/cm3, Capacity 7825 kg/h.The boilers included but not limit to the following associated equipment:Complete desecrators with its accessories such as feed pump, fittings...etc.Chemical feed units.boiler feed water pumps.boiler blow down drums.Other equipment when required.
4. PERFORMANCE GUARANTEE
Design conditions: the guarantee dates shall be based on the following
Boiler load:100%
Ambient temperature :25°C
Gross steam production:7825 kg/h
Feed water temperature: 105 °C
LHV of Natural Gaz:11700 kcal / Kg
Boiler Efficiency:85%
5. Guarantees :
As guarantees is based on a clean boiler commissioning and tested after erection, theboiler condition shall be inspected (internally & externally) before start performance Test.
5.1 Boilers shall be subjected to an ASME certified hydrostatic test, the pressure vessel shallComply with the standards of the ASME.
5.2 The main fuel light off burners manufacturing shall subject to a preliminary factory Test toensure proper operation of the combustion protect control.
5.3 Burners, fuel light off burners manufacturing and controls shall be subjected to a preliminaryfactory tests, to ensure proper Operation of the consumption protection control andsafeguard control and ignition.
5.4 During the stage of design, detailed engineering and construct of new boilers, NebrassEngineers (4) persons, shall visit contractor 's works aboard for period of 10 days, toEnsure the progress and quality of works. contractor shall arrange to provide access ofNebrass 's to all area of works, provide to perform testing of material, and other related tothe Verifying of applicable standards of construction. Cost of such tests shall be deemedinclude in the total contract price, but such inspection & tests shall not relieve the contractorlater from his duties and responsibilities towards the completion of the works, owner shallbear the Expenses of air price, food, accommodation etc.
6. Training:
6.1- Contractor shall provide training to Nebrass personal at contract 's yard aboardincluded supply of training materials to ( 6 ) person for a period of two weeksregarding the operation And maintenance of boilers and its accessories ,Nebrassshall be responsible for the expense of airfare, food, accommodation.
6.2- Contractor shall provide local training at the site, to (10) persons regarding operationand Maintenance, of new boilers and associated equipment.
7. Commissioning and handling over:
7.1- After completion of items mentioned above, commission andtest run shall carry out in the presence of Nebrass engineers,including supply of necessary spare parts which required forcommissioning and test run. test certificate of performance byagreed method Shall submitted to ARC.
7.2 After completion and commission of the boiler, contractor shallclean all areas of the work Place, hand over the facilities to theentire satisfaction of the owner.
7.3 Contractor shall submit to the owner, as the contrac.t completesets of ( as built ) final drawings Equipment data sheets,operation and maintenance manuals, etc. in an electronic filesAs well as a hard copy for the boilers and other accessoriesrelated to project.
7.4 Contractor shall provide operation &application software and itsmanuals for PLC system and any other system related tooperation and control of the project.
8. SPARE PARTS :
Supply spare parts for two years operation and maintenance of newboilers and its Associated equipment, included all mechanical, electricaland instrument parts etc.contractor shall submit to the owner his approval an item-priced list ofthe spare parts priorto supply them, this list should include in bidder'soffer.
9. Miscellaneous :
Any other items, which are not included here above but may benecessary and make the boilers functionally and successful foroperation and performance of the new boilers (Bidders to specify andquote such items in the bid).