What Will Cause Natural Gas Steam Boiler Explosion
2015-08-07 17:19:11
Lots of enterprises choose natural gas fired boiler in their project, which is a kind of industrial boiler, it heats water to a high temperature then generate needed steam. Natural gas fired steam boiler can be used in many applications, like textile plant, paper mill, hotel, university, food industry, etc. But the natural gas fuel itself has explosive property, it might explode under some conditions.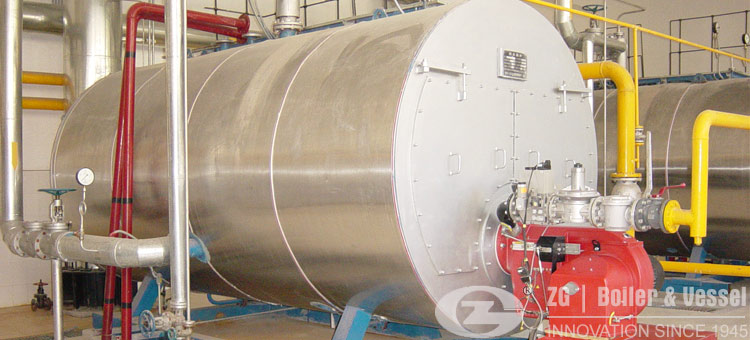 What will cause natural gas steam boiler explosion
Boiler overpressure
A gas fired boiler has its rated pressure limitation. If it is excessive burning, pressure inside boiler will increase with the temperature rises, resulting overpressure condition. Surely boiler pressure-bearing ability is not limitless, once the pressure over its max value, boiler explosion occurs.
Pipeline leakage
A gas steam boiler suffers long time shut down without proper maintenance, weak parts of pipes will corrode, then leakage occurs. Natural gas leaks and lows outside contacting with high temperature, then boiler explodes.
Improper operation
Report shows a large part of boiler explosions is due to human factor. Some users do not train the boiler operator strictly, or operators do not follow the boiler instruction, ultimately leading to accidents.
Why choose gas fired steam boiler from ZG Boiler
Combining years experience and clients needs, we design and manufacture automatic gas oil steam boiler, three-pass, wet-back, large combustion chamber and high burning efficiency. What's more, we equip the boiler with multi-protection device: over-temperature, overpressure, water leakage, flameout, etc. We also supply over-all installation, operation, inspection guidance, after-all technical service. If you need gas oil fired boiler, do not hesitate to send your requirement to sale@zgvesse.com or call 86-371-86062323, or just chat with our online customer service, they will provide help!
Get An Instant Quotation
For all inquiries, please fill in the form below (* are required) to send us a brief message, and we will get back to you as soon as possible.