Water tube gas steam boiler in paper-making
2016-03-09 10:40:57
The process of paper-making uses raw materials including water, energy, chemicals and wood chips. A paper mill boiler is used to produce steam for turbines that make electricity for motors and turbines. Besides, the steam is also used to dry the paper, to cook the wood chips during pulping. The boiler fuel may come from oil, gas, coal, and biomass. Recently, we have a gas fired steam boiler for paper-making.
Coal gas steam boiler in paper making
In paper plant, electricity is also important. The company has its own coal power plant for electricity providing. Large amounts of coal gas is produced that is a really waste. To make full use of the by-product gas, they purchased a 20 ton steam boiler from our company, which is designed to burn the coal gas. This boiler not only resolves gas emission, also reduces plant investment cost.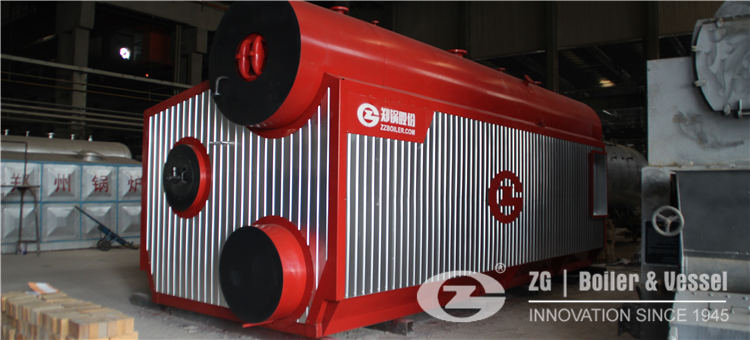 Types of gas steam boiler
WNS series and SZS series are our two gas oil boiler series. WNS series boiler is fire tube boiler, three-pass wet-back with larger combustion chamber that can burn fuel fully and realize higher combustion efficiency. It is 1 ton to 20 ton capacity range suitable for small-scale factory, like bath center, hotel, school, holiday village, greenhouse heating.
SZS series boiler is water tube boiler, ranging from 4 ton ~ 35 ton/14~58MW for textile plant, paper mill, chemical industry, city heating, university, office building, hospital,etc. A full membrane wall structure made of tube and fin construction provides a gas tight furnace chamber resulting in a high combustion efficiency.
Water tube gas steam boiler in paper mill
Compared to fire tube gas boiler, water tube type steam boiler is more safer and stable in operating. And the SZS water tube boiler can burn low-heat value fuel, like coal gas, biogas, blast furnace gas. The paper mill gas steam boiler has high thermal efficiency and low emission.
For more paper mill boiler information, please contact zbg@zzboiler.com.