How to Choose Coal Fuel for Chain Grate Coal Boiler
2015-09-30 15:22:35
Most chain grate boilers burn common anthracite coal, bituminous coal II, bituminous coal, but the coal fuel varies as boiler structure. For example, DZL packaged coal fired boilers burn bituminous coal II and anthracite coal, SHL coal boilers prefer soft coal and anthracite coal, special large scale CFB boilers need pulverized coal or coal slurry.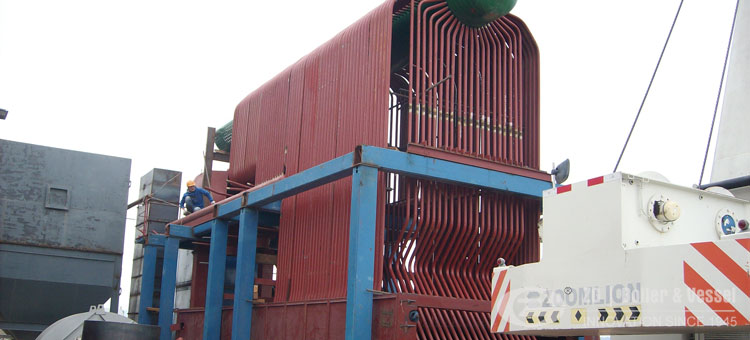 1. Moisture as received coal, water that is the number indicator and quality indicator. The moisture of coal increases, heat reduces, steam boiler flue gas temperature rises, all these affect the combustion efficiency of power generation boilers. If using pulverized coal combustion boiler, before pulverized coal into the blast furnace, it should go through a drying process, in order to reduce the impact of moisture on the power boiler combustion.
2. Ash content as received basis, the impact of the ash on combustion first indicates: high ash content will slow down the speed of flame propagation, ignition is delayed, combustion temperature drops, the combustion stability deteriorates, causing the fire quenching; meanwhile, high ash content also easily cause increased wear and tear of equipment, shorten equipment life. Low ash content in the stratified combustion, easily burn grate because of the thin boiler ash. In the view of ashes adaptability, the circulating fluidized bed boiler has the best adaptability.
3. Net calorific value as received basis, calorific value of coal is an important indicator when designing power boilers. When calorific value of coal is lower than design specifications, furnace temperature level reduces, affecting coal ignition and burn, and lowering steam boiler thermal efficiency; when the calorific value low to a certain extent, it would cause unstable combustion, fire blasters.
There are some factors that affect coal fuel selection: volatile matter (dry ash-free basis), fly contact as received coal, moisture as received coal, St.d, net calorific value as received basis and ash fusibility. If you want to choose a coal fired boiler, please contact us and we will recommend you proper boiler and fuel.