Causes and Preventive Measures of Natural Gas Boiler Explosion Accident
2016-03-14 17:57:36
Compared with the oil fired boiler and electric boiler, the gas boiler is the most economical one,so most people choose the gas boiler as the boiler equipment of steaming, heating and bathing. Gas boiler can be divided into natural gas boiler, Coal Gas Boiler, liquefied petroleum gas boiler, Marsh Gas Boiler, Bio Gas Boiler and so on.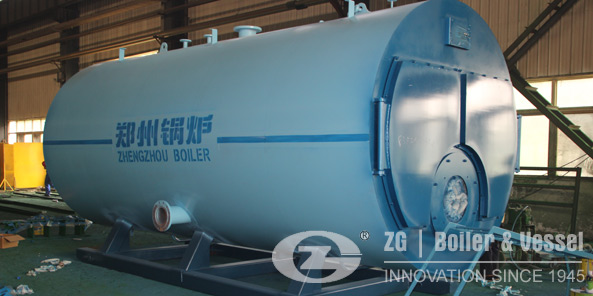 The most main difference of Natural gas boiler, Coal Gas Boiler, Marsh Gas Boiler and Bio Gas Boiler is that they use different fuels. Marsh Gas Boiler uses the methane combustion to heat the water or other thermal coals to a certain parameter. While the Bio Gas Boiler use crop straw, wood waste, edible fungi residue, cattle and sheep dung and all flammable materials as raw material and then transform them into combustible energy. Gas boiler has been widely used in the life. But in the process of using it, the natural gas boiler may have explosion accident.

Hazardous Gas Boiler explosion accident is a kind of safety accident with serious harm. How should we prevent the explosion accident and utilize the new energy? This is an important problem. Boiler explosion is a chemical reaction which loses instantly control. The main causes of the explosion accident are as follows.

Illegal operation: firstly, before igniting the stove, the operator doesn't clean seriously the hearth or the cleaning time is not enough. When the natural gas in the furnace meets the fire, the boiler will explode. Secondly, the first natural gas valve of entering the hearth is closed loosely. The natural gas leaks in the furnace. Once it meets the fire, the boiler will have the explosion accident.

Incomplete boiler protection system: firstly, the boiler has no boiler flameout protection system. After the abrupt flameout phenomenon occurs because of some reasons, the operator can not timely take some measures; so that a large number of natural gas swarms into the hearth. The boiler explosion will occur. The reason will cause the most serious natural explosion accident. Secondly, the boiler fan interlock protection system is not installed. Thirdly, there is no natural gas pressure regulating equipment in the boiler room.

Although natural gas boiler explosion accident is very horrible, the accident can be prevented. Firstly, making clear the job responsibilities and operation norms; secondly, making the furnace inspection system; thirdly, improving the boiler protection system.

Taking above measures can effectively prevent explosion events of the natural gas boiler.
Get An Instant Quotation
For all inquiries, please fill in the form below (* are required) to send us a brief message, and we will get back to you as soon as possible.