Boilers Used in Captive Power Plant
2015-12-30 20:13:54
Captive Power Plants are power plants generally established by an industry to meet its own requirements of electricity. The industries consuming large amounts of energy every year, like steel & iron industry, smelting industry, glass industry, cement plant, mining industry, and during their production some by-product fuels are produced that can be used in boilers, so they usually establish their own captive power plants for steam and electricity.
CFB Boiler for power plant
Boilers for captive power plants
Power plant needs high pressure steam to supply power to drive the steam turbine, therefore, the boiler used in the captive power plant also requires high pressure. ZG Boiler manufactures high pressure boilers for the application: CFB Boiler, Biomass Power Plant Boiler, Gas Power Plant Boiler, Waste heat Power Plant Boiler.

CFB Boiler is a most common choice in coal based power plant; nowadays, biomass power plants are encouraged in many countries where occupy rich biomass resources, the sugar plant, palm oil mill, rice mill, paper plant usually establish the biomass power plant burning the by-product biomass waste and co-firing with coal; the smelting plants produce blast furnace gas, coke oven gas that can be reused in boiler for electricity, and they set up captive power plant burning the gases to supply steam and electricity.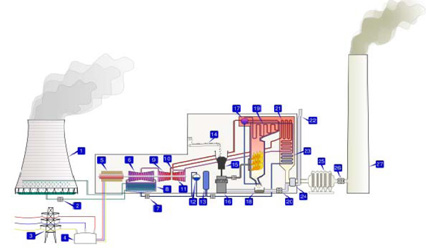 Captive Power Plant Construction Procedure
According to an engineer who ever worked as a filed engineer to install Captive Power Plants, we learn that Captive Power Plant
Construction procedure mainly includes 3 major steps:
1. Erection Activities
2. Pre Commissioning Activities
3. Commissioning Activities
Erection Activities: These activities are carried out basically to install Main equipment (Boiler,Turbine, Generator, Condenser) and auxiliaries (Oil pumps, Heaters, Boiler Feed Pumps etc) to their positions.
Pre Commissioning Activities: These activities are carried to ensure the readiness of the different systems(Lube oil system, Condensate system, Vacuum system, Steam and Drain system etc).
Commissioning Activities: These activities are most crucial ones.Trial run which is also called No Load run is first carried out with extreme precautions. Because behavior of the system can't be predicted with first run. After completion of trial run, all the safety checks (Mechanical, Electrical, Instrumentation) are performed.
Then Power plant is loaded to available Power load and it is now called commissioned.