Scope of Supply for 60 Tons Chain Grate Steam Boiler, 45 Kg/cm2
2022-10-20 09:20:25
The main specifications are laid down as:-
A.BOILER
Design ASME Section 1, Edition 2013
Steam evaporation at MCR 60000 kg/hr
Design pressure at super heat outlet 52 Barg
Design pressure evaporation 52 Barg
Design pressure economizer 564.6 sq.m2
B.STEAM CONDITION
Normal working pressure at super heater outlet 60 Barg
Steam temperature at super heat outlet 4500C
FUEL CONDITION
Main fuel:
Biogas lowcalorific value 4784 kcal / kg
Sulphur content Max. 2.5 % by weight
Bagasse:
Low calorific value 1850 kcal / kg 7980BTU
Moisture 50 %
C.OPERATING TEMPERATURE
At Dearator inlet 20-450C
Feed water temperature at boiler inlet 115 0C
D.BOILER EFFICIENCY (BASED ON LCU)
Biogas firing 85 %
Bagasse firing 80%
E.LOCATION OF BOILER Out door
The boiler is simple gas fired boiler with dumping grate for bagasse. The boiler should also be equipped with simple safety and control devices for easy operation.
Bagasse shall be fed to the boiler through spreader stoker and by rack type carrier.
As we are already running 3 MW power plant, electricity shall be provided for all electric motor drive, or for any other equipment from our own power plant which is now in operation.
We have sufficient arrangement of boiler feed water along with the dearator system and such not required.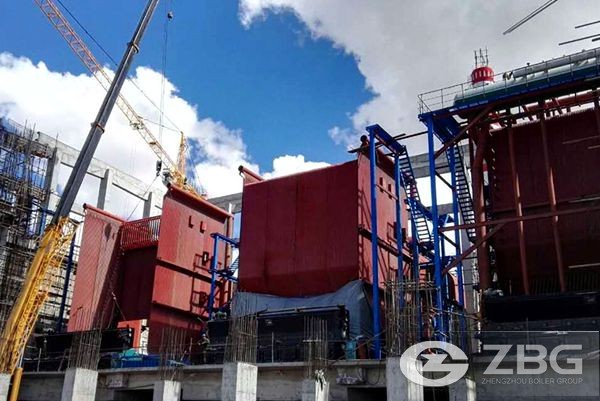 60 Tons Chain Grate Steam Boiler
SCOPE OF SUPPLY FOR 60 TONS BOILER
Main pressure parts
1.Steam and water drum
2.All headers, side, front rear, and super heater steam header
3.All boiler screen and furnace tubes
4.Dumping grate with all accessories etc.
5.High pressure valves and fittings
6.Fans: ID fan, FD fan and Secondary fan
7.Boiler feed water pumps
1.Electric motor driven (with V.S electric motor with inverter)
2.Steam turbine driven
8.Instrument and necessary control equipment
9.Economizer as per design parameter for 450+ 5OC steam temperature
10.Steam distribution header
11.Gas burner with control
LOCAL FABRICATION AND SUPPLY
Air pre-heater and multi cyclone dust collector, Staging, structure, stairs cases, chimney, boiler ducting, casing platform and gangway, all such items shall be fabricated in Pakistan. However design and drawings for local fabrication and erection shall be supplied, dearator tank, bagasse feeder, bagasse carrier etc.